I still vividly remember the anticipation and excitement of watching Shubh Mangal Zyada Saavdhan on the big screen, back in 2020. Life as we know seemed so rosy back then. On 6th September, 2018, about one-and-a-half-year prior to the release of the film, the Supreme Court had decriminalized the Section 377 of the Indian Penal Code. It's no longer a crime for consenting adults of same-sex to engage in intimacy. So, in a way Shubh Mangal Zyada Saavdhan (SMZS) was the first major instance of creative expression of queer freedom in a country that no longer looks down upon its queer citizens. Let me rephrase my thoughts – People can no longer look down upon queer people even if they want to because the law is on their side, finally. This fact elevated SMZS into more than just a film. It became a sort of social experiment to gauge people's reaction. So on 21st February 2020, I found myself as an audience in a jam-packed cinema theatre to watch the film. Less than half hour into the film, when the two leading men – Ayushmann Khurrana (Kartik Singh) and Jitendra Kumar (Aman Tripathi) – kiss on the screen, they were greeted by a mix of wolf-whistles, cheers of encouragement and a few snickers from the audiences. It was an expected reaction, nonetheless, as the Indian movie going public was for the first time witnessing something like that. It was a historic moment, to say the least. Of course, there were moments of same-sex intimacy being shown on the Indian cinema screen prior to SMZS. The most popular example is Deepa Mehta's lesbian drama Fire (1996) which ruffled more than a few feathers. All that I can comment about the reaction that Fire garnered is through knowledge gained from the media archives but when it comes to SMZS, I was physically present there to experience it. For the first time, the massy Indian public witnessed their 'hero kissing another hero' on a massy platform – the Indian railway. Towards the end of the film when Aman Tripathi's father says – I can't pretend to understand you completely but I won't stop you from living your life – the audience gives a murmuring and understanding nod; a few even resorted to clapping. To make sure that the positive audience response was not an anomaly, I went to see the film for a second time and was happy to see that the audience reacted more or less similarly. Coming out of the cinema, I felt a sense of relief that the times ahead will be one of empathy and compassion for the Indian queer community. Alas! I was wrong, to a large extent, if not completely.
The inevitable topic of discussion – the Indian law has finally given recognition to the queer people but will the society accept them – is a double-edged sword. For allies it is a matter of genuine concern and for the naysayers and critics it is a psychological tactic to label the queer community as the 'eternal other'. It's like the society saying you can have a seat at the table but only because we are allowing you to have one. Perhaps, it is this mentality that still encourages a section of the people to make fun of the queer community without any sense of accountability. When a massively popular Youtuber casually refers to a bunch of Tik-Tok users as – 'Mithayi ki dukaan pe, 200 rupaiye mein bik jayegaa' – in one of his videos, one cannot help but notice how normalized this has been in our society to casually pass a nasty and condescending comment on and at the expense of the queer community. There was an understandable uproar against those nasty remarks and the said video was rightfully deleted by YouTube. However, the perpetrator never once publicly expressed his regret but rather made another video in his defense where he mocks about the absurdity of the 'cancel culture'. Interestingly, he plays the head of an unnamed company who also happens to be gay. So, it naturally gave him ample scope to make statements such as – 'I like my targets just like my boyfriend's d*ck, soft'. In doing so, he not only appropriated queer culture to whitewash his earlier statements but it also showed how an urban, educated and privileged youth with the power to influence impressionable minds can play an active role in keeping the age old queerphobia alive. This was in 2020.
Coming to 2021, the situation is still the same – a large section of the visual media is still irresponsible in its representation of queer people on their medium. In a recent episode of XYZ Comedy Show (name changed), a bunch of cisgender-heterosexual actors did an act/performance where they went in all guns blazing in making fun of a fictional gay Bollywood designer. Dialogues like 'Aap se zyaada meetha kaun?'/'Hamari industry mein jitney bhi fashion designer hain, yeh sab itne dheele dheele kyun?' and 'Bunty to bajaa gaya, aapki ghanti kharab hain', were used for inducing laughter. First of all, this is an insult to both queer and cis-het designers working in this field as the whole act is based on stereotypical assumptions and exaggerations. Secondly, it was done with the pure intention of debasing the physical characteristics and sexual orientation of a particular community, simply for the sake of entertainment. There is no hint of even an ounce of intelligence, satire or sarcasm in the writing. The show is judged by a celebrated female filmmaker (her gender is a non-issue) and the guest judge for the episode was a popular Bollywood actress. To think that they didn't even flinch on hearing regressive jokes being made on the profession of their colleagues is an eye-opener of sorts.
These are just a few examples. The problem with such materials being shown on a regular basis is that it not only discourages the society at large to change their outlook towards the queer community but also hampers the healthy psychological growth of a young queer person. This leads to young (and old) queer folks not expressing their true self publicly and they are forced to lead a life that is far removed from their innate self. And the sad part is there is no definite solution to this problem. Legal recourses and a systematic decolonization of minds against queerphobic upbringing is the way ahead but it's a journey that will be a long and an arduous one. For right now, we should and must call out every such instance of queer misrepresentation and degradation shown on any medium of expression.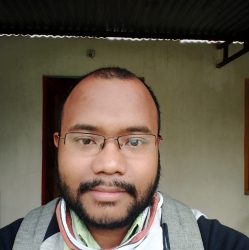 Latest posts by David Lagachu
(see all)