I am a huge fan of comics – the art of telling short funny stories through cartoon drawings in small panels. AND I am gay !! Which means I totally love gay comics.
Over the past few months, I've come across comics touching various colours of the queer rainbow. I have enjoyed reading them. I should say I'm in love with them. Who needs a boyfriend when you have comics to keep you busy in the late hours of the night ?
Here I am going to list a few. Feel free to add more links in the comments section. And yes, the pictures in this article are the artwork of respective authors and have been used here with permission. Please do not violate the copyright. Click on the title to visit the comics.
This is a set of comic-style stories of 8 teenagers who are some combination of gay, lesbian, trans-male, trans-female and straight. The best part is that all the stories describe the same period of time, but from the point of view of each of the characters, thus intersecting each other's story, revealing secrets and making it a unique reading experience. And guess what, the same author wrote another series called Shades of A that covered an asexual character and a BDSM character together. Check it out.
Intersex people are often ignored during queer discourse. Well, here are some intersex stories in manga format (a Japanese style, read from right to left). The stories describe the physical and emotional problems that come up in the lives of intersex people. However, the few stories that I read end on a positive note and will leave you inspired by the beauty in variety of life.
A daily comic about "the lives of a real Dutch gay couple". They are a sweet, funny and often weird, complete with silly-fights and sugary-moments. The comic also shows them with 2 adopted kids (not in real life). They are pretty good dads I should say. But when the kids are not around, man, they are naughty !
A simple gay couple sharing snippets of "their incredible ordinary life" They are totally casual and rarely vocal about their love for each other. Still their deep bond is visible through various funny situations. Plus they are surrounded by their cool families and friends.
Griefer Belt is a "slice of life series about queer criminals in the black market". Bad-ass, good looks and gay – a fantasy come true ! Complete with a criminal story-line, that you are not supposed to try at home!


The comic tells the story of the Gods of Life and Death. They are accompanied by the Gods of Wisdom, Madness, Love, Luck etc. It's beautiful and poetic in a way, specially because Mr. Death kind of likes Mr. Life, but Mr. Life kind of hates him because Death brings end to living things. Do read it .. it's deep ! (and beautiful (and funny (and I like it.)))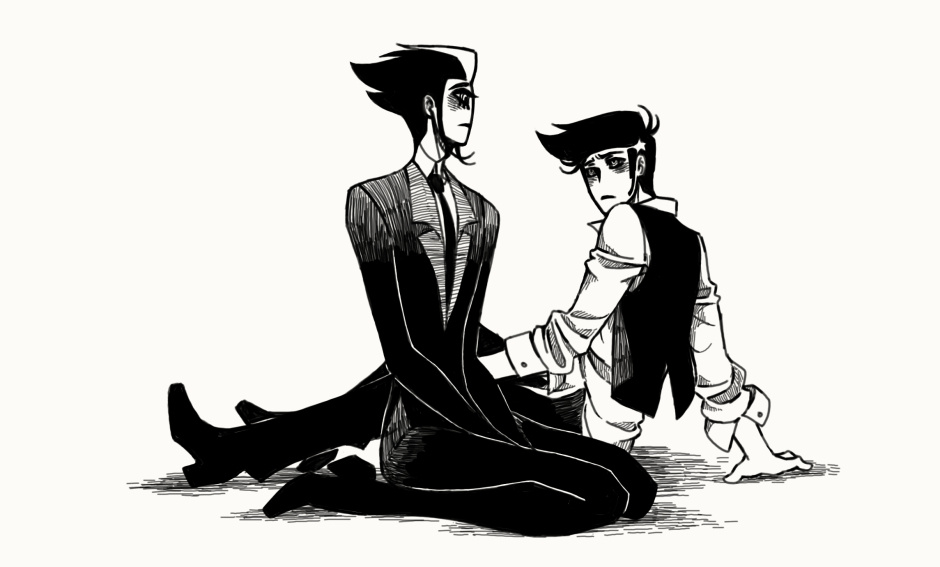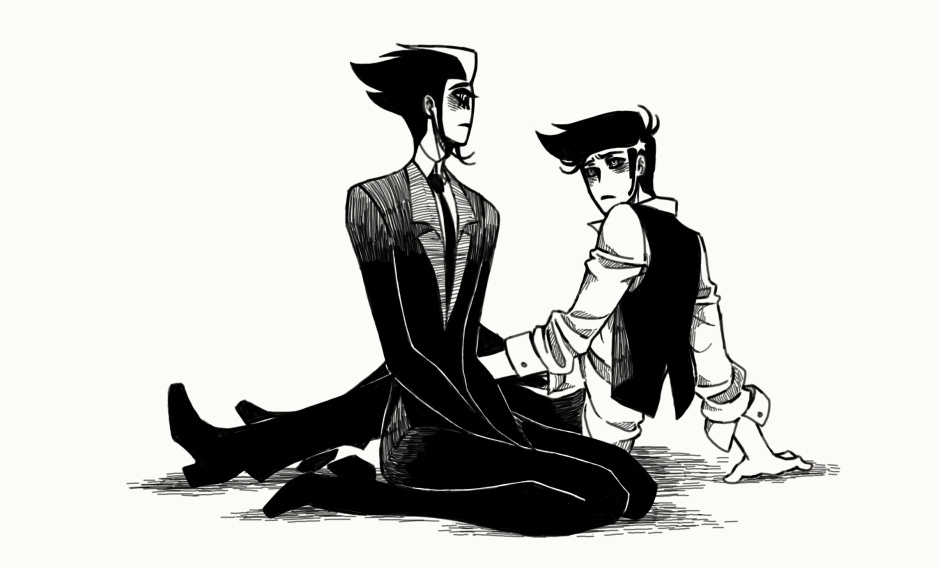 "A gay demon and his human boyfriend" – it couldn't get any hotter. Magic, sex, silliness and fun – rolled into one ! This comic is a must visit. You can click on the link to get a glimpse of the story.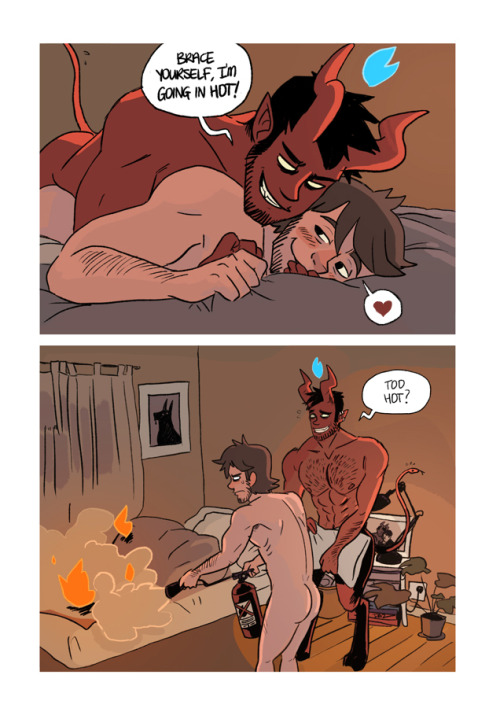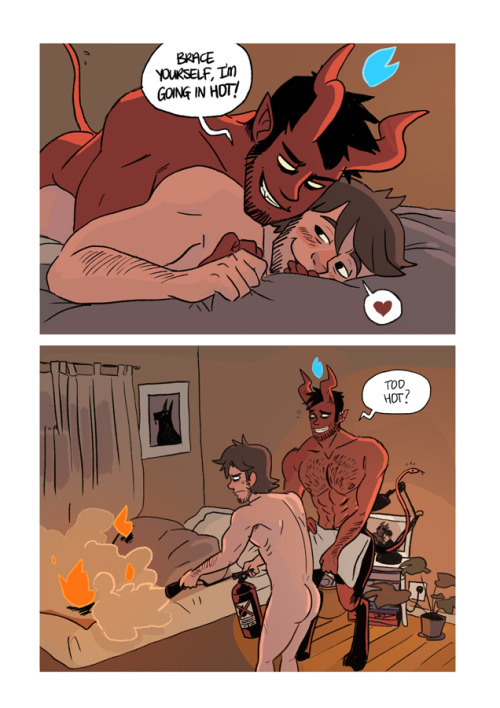 Simple story of a pink and a black salamander (fish), living life "out of water like the rest of us". The comic does not use sex jokes or even the words 'gay' or 'love'. Still the bond is implicit and beautiful. It has a lovely blend of humour and unconditional love. One of my favourites.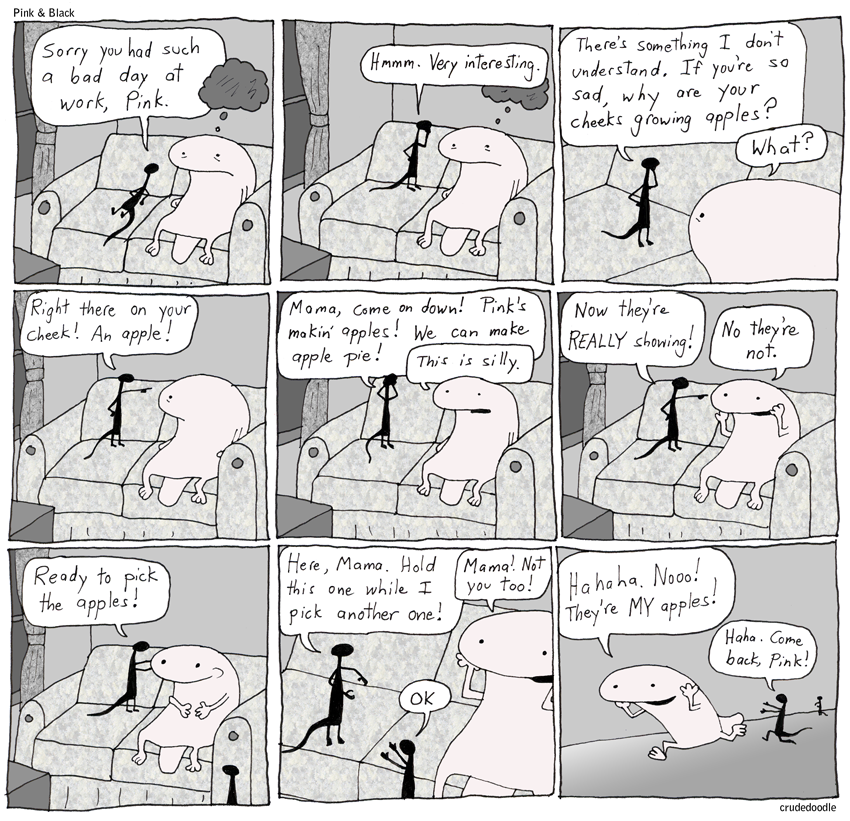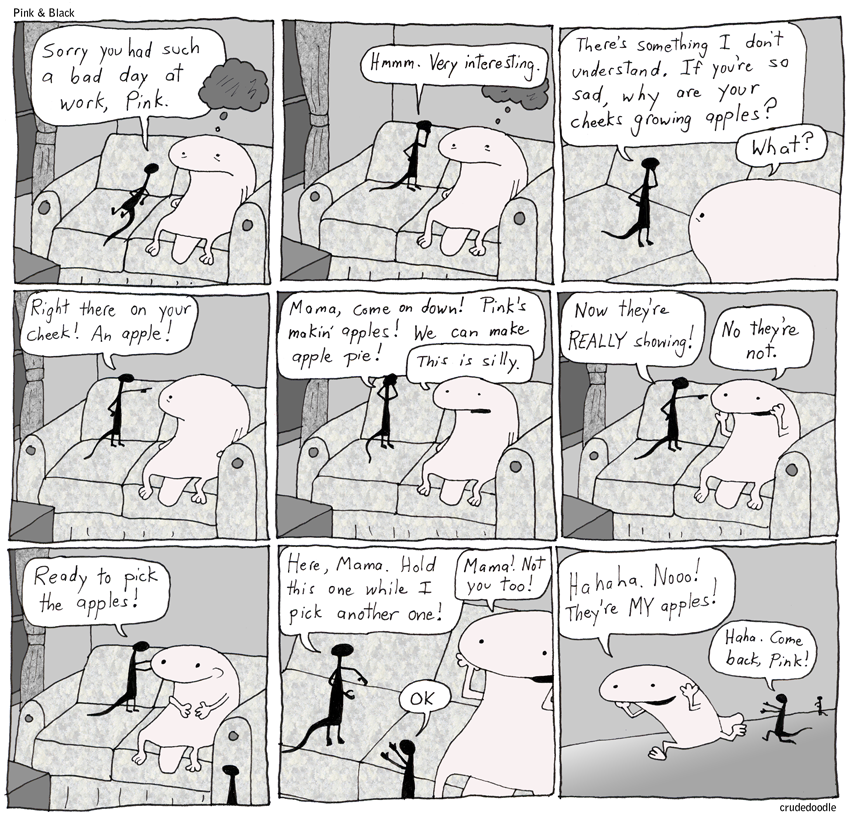 Another comic involving criminals, where the bisexual Don flirts with the bisexual secret agent who lives with the gay policeman. And there's a lesbian couple! And a transguy! And an interracial three-way couple! The more the merrier.
This site regularly publishes posts about new webcomics (from various authors) that deal with queer characters and story lines. It adds relevant tags to each entry, so you can search according to your choice. For example: Asexual comics, Bisexual comics, Transgender comics,Lesbian comics, Gay comics, Polyamorous comics.
Whichever comic you pick, make sure you have a good time.
Latest posts by Anonymous
(see all)