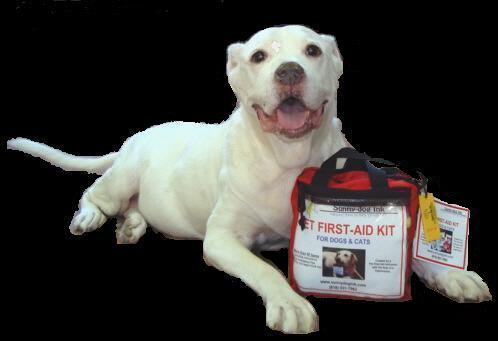 -Rohan Noronha
First Aid for dogs is what you need to know, when the vet is not around to help and that is usually the case. We have first aid for humans. So, why not for pets? But very few of us know about it, hence the article to help you learn more.
First Aid for dogs helps to save a life, bring down suffering and to prevent further deterioration in the process. While administering first aid, please remember to stay calm, allow enough air for the pet to breathe, learn to control the bleeding and call the VET.
When handling dogs' injuries, don't be harsh; use a soft touch. Get a leash on the dog and a noose around his mouth carefully. Get the dog examined and apply your senses, which means check the breathing of the dog, look for bleeding and how to control it, see if there are fractures or wounds, which need immediate attention. Once these steps towards first aid are done, then get the pooch ready for the trip to the vet. If he can walk, allow him or else carry him in a basket or a dog carrier, with proper breathing space.
For poisoning cases, the first aid would be to make him vomit, put salt in its mouth or to give him a laxative. But the best thing here would be to speak to your vet and follow his instructions. For bleeding, apply pressure using your thumbs on the spot, use a pad and apply pressure on the artery to stop bleeding.
If Rambo has wounds, like scalds or burns, then cool it using water, but the dog should be kept warm with a blanket while applying this method of first aid. Dress the area using a sterile bandage or pad. Never use lotions, creams or powders on any burnt areas; this would lead to puss formation and a possible gangrene. For fractures, use wooden or metal splints or even a newspaper rolled up and make it support the affected parts, but call your vet soon after this is done.
If Rambo's nose bleeds, use a cold compress on the area, if he fractures a tooth or teeth, call the vet and get him sedated to remove the remaining parts. Cold compress prior to the calls is the best first aid to be applied here. The same would apply for nicks and cuts on tongues, lips and nose. If he has swallowed a ball, he could be suffocated. Use a corkscrew gently if your fingers fail to pull the ball out, or else call your vet. For bloating issues, you NEED THE VET.
If he has swallowed coins, stones or balls, the small ones will pass away without trouble; the big ones need a vet's expertise. For eye injuries, the eyeballs need to be kept moist at all times with saline, butter or oil. Speak to your vet for more alternatives on first aid for dogs.

Latest posts by Rohan Noronha
(see all)