I wanted to participate in the Pride parade, first big one since the pandemic. But I am in a mountain cabin, as Norwegian as it gets. With Martin, my blond blue-eyed best friend. Martin who is self-exiled, Norway still too small for its greatest, most colourful souls. He is visiting now, not sure we could say back home. We have gone to their family cabin for the weekend, four hours outside of Oslo. Together just the two of us here, in nature, we can say home. We arrived yesterday, on Friday. The day before, Daniel and I had participated a little bit in Oslo Pride. Bumping into friends and distant acquaintances in the Pride park, like a big family gathering, some of the members you see only once a year. The celebration in the City Hall with artists, the prime minister and more, led by my friend Noman, Norwegian-Pakistani and out. Sitting there it felt like we had come far. And I thought this must be the perfect terror spot. I felt calm.
I wake up early, always before Martin. I enjoy my mornings alone. I write about peonies. Daniel and I have peonies in the garden. Every day for the past two weeks I have watched them. The ants crawling all over them. Nurtured by sweet nectar. Protecting them from other insects in turn. They reach my navel now. The flowers unfolding more and more.
I only check my phone after working for a couple of hours on the peony poem. I am glad I have my priorities right.
'Grusomt,' horrible.
'Sjokkerende,' shocking.
'I hope you and Daniel are okay?'
Has something happened to Daniel? I read a text from him: 'I got home early last night, am okay.' I call him. There was a shooting outside London Pub in Oslo last night, two confirmed dead, several wounded. The first gay pub I went to at 20 – and still go to now and then at 42.
Not shocking.
It is typical Norwegian to be…
Only white Norwegians who constantly celebrate how good they are, how good Norway is, 'oh, it's horrible for women and queers in India, isn't it, in other countries it is still so bad,' I want to scream, only they can be surprised! And then my friends in India who believe life is so much better here. Yes, it is. And worse. At least for queers of colour who have grown up here like me. So easy to demonize – or idealize – another place, other people, to project our shadow sides elsewhere.
Missed calls, including Gjermund, a name you can really only say in Norwegian. He is crying. Through sobs I hear 'It's just so good to hear your voice, Vikram, you are okay.' 'Ja, Gjermund, okay,' I say. I am silent, let it in, happy, sad. Kjære Gjermund. One of my dearest friends.
Friends check in on me. I check in on friends. Wounded? Killed? All of my closest okay till now.
Martin wakes up: This is crazy, this is why dialogue is important, to allow more, to not push people away! I look away. Martin has many aspects, including straight and white, insensitive at times, badly timed.
On Facebook, I read the status updates of friends:
'I am safe but a friend is wounded.'
'I am safe. Ran from the shots.'
'Jeg er trygg.'
'I am safe.'
'Jeg er trygg.'
'I am safe.'
'Jeg er trygg.'
'I am safe.'
I join the mantra and write:
'Daniel and I are safe.'
Do I believe it?
The gunman is brown like me. He is 42 like me. Now there will be more racism.
My brother was in Oslo on 22 July 2011 when the terrorist attacks occured. Before they caught the terrorist white Norwegians spat and called my brother names, assuming the terrorist was a brown man just like him. Later, when they caught Anders Behring Breivik, white and straight, and were celebrating themselves and their rose response, white Norwegians tried to embrace my brother, say he was one of them. My brother refused to be used. When he told us many years later, I was enraged but proud of him. Our mother cried. She had given us Norwegian as well as Indian names: 'I wanted you both to feel at home somewhere, not rootless like me.' I stopped using my Norwegian name at sixteen.
'Vikram, I understand if you want to go back to Oslo now.'
'No, it's okay, Martin.'
'How are you, Vikram?'
'Okay.'
The police has asked Oslo Pride to cancel all events. For our own security.
Thousands gather spontaneously. You can't cancel Pride. Queers of colour, people I know, lead the parade: Begard, Bassel, Dhi Yazan, Ahmed, Frode. And Stefan, white, disowned by his Christian conservative family, not unusual in the Norwegian south, he is there too. This is his family. We are his family. Mamma made him chai when he was heartbroken, after the breakup with his first boyfriend. They walk to London Pub. I watch on Facebook, I wish I was there. From now on I will always prioritize Pride. We take back the crime scene with flowers and rainbow flags.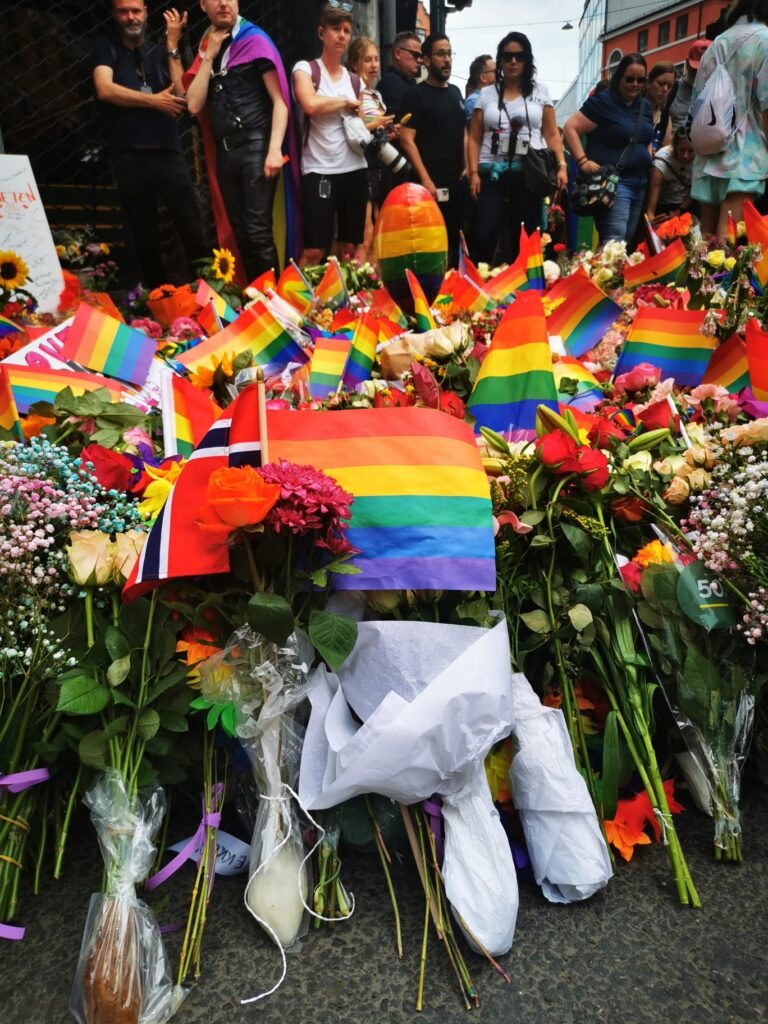 My mother, sobbing, says, 'I hope you are all okay and safe, this makes me so angry and afraid.' When I came out, she said, 'Your life, it will be so difficult. You already have to live with my skin colour in this country.' I said, 'I'm okay, mamma. Where I live in Oslo, it's okay, you know.' Later, one year, she joined us for the Pride parade. Stefan, Mamma, many others, I.
I change what I wrote on Facebook:
'Daniel and I are okay.'
'I won't write safe. Queers are never completely safe, queers of colour even less so.'
scrolling
on the phone
over and
over again
checking
social media
news now
I realise I should and can
stop.
Martin and I leave the cabin and walk up into the mountains. I tell him how his first comment this morning had affected me. He apologises for not being sensitive enough to me and what I was going through. 'Yes,' he says, 'I am straight and white, I don't fully understand, I want to work on what I can.' I appreciate it. After a while, I turn back while he continues for a longer walk. But on the way back, I get lost in thoughts. I decide to stop and listen to the wind.
just wind
clear
one vibrating field
a wild hare
completely still, staring at
another one over there
I smile, almost cry
summer rain
everywhere
Eventually, I find my way back to the cabin. I sit down and meditate:
A mountain,
firm body-ground.
A lake,
fresh in this mouth.
Wind,
in, out, still for a while, in.
A sun
shining between these eyes.
This never dies.
Martin returns. 'Do you want to watch the evening news together, Vikram?' We can watch for a little while. On the news, a gay acquaintance, tearful, says that all emotions should be allowed today, fear, anger, sadness, not just pride. Martin says, 'Why not every day?! Norway is so small!' 'Yeah, let's watch something else now.' We do. It's not very good. But okay for now. I eat lots of sweets. Before going to bed we embrace. Heart to heart. Bellies close, I sense mine, his, rising and falling with the breath. His warm hands on my back, at the back of my heart where I'd struggle to reach myself. One, two, three, four, five, six seconds. At least. He whispers, 'I love you, Vikram. I love you, best friend.'
In bed, I write, 'I love you, Daniel. I look forward to seeing you on Monday. Good night.'
I put the phone away. What was that subtle scent? Can I remember from up here in the mountains, some snow on the other side of the lake, the night still light in the Norwegian summer. Not just pleasant. Could I smell the traces of the world the ants had walked through? Pleasure but also pain. Relief but also terror. Everything on these thin pink pink pink petals, bursting into laughter just outside Oslo now. The ants leave to return again next spring. Perhaps I'll call the poem 'Protection of peonies'.
Latest posts by Vikram Kolmannskog
(see all)