As per the directives of the Government of West Bengal, all Colleges and Universities in West Bengal need to complete the proceedings of the elections for the Students' Union Councils of the respective colleges by the 31st of January, 2017. That calls for a fierce political atmosphere in educational institutions of the state, which have already had to skip last year's election as per another government directive.
What comes off as very interesting this year is how the political propaganda is slowly becoming more inclusive to queer politics, and we are seeing more and more manifestos and agendas talking about Queer Rights, Disability Rights, and Mental Health issues. We spoke to few students from some colleges and Universities of Kolkata, and we accept that the list might just be a scratch on the surface of the iceberg, but it sure does give us a hang of it. While a lot of people from the community are calling these moves a successful attempt at pinkwashing, we cannot absolutely dismiss the fact that a few things need celebration, albeit with a constructive critique of it.
Asmita Sarkar, a student of second year in the sociology department of Jadavpur University and the vice-president of AISA (All India Students' Association) – the students' wing of the Left-wing CPI (ML) Liberation- Jadavpur University Unit, is the first openly out lesbian woman to contest the Students' Union election in the long history of the University. Gaurab Ghosh is the only other "out" person to have contested student elections in India when he contested as a SFI member in JNU elections in the year 2013. Sarkar is contesting for the post of Assistant General Secretary, and says that she first realized her attraction towards the same sex/gender back when she was 12 years of age. She has been working for AISA since her first year, and she gladly says that the acceptance towards the queer population is liberal in her university, at least among the Humanities faculty. Her agenda as a candidate mainly focuses on further liberation and inclusion of the queer persons in the campus, and it extends to school students too, where she wants gender and sexuality education to be introduced to students early in their quest for education, just like sex education. Agreeing to the necessity of a cell dedicated towards the transgender persons, she says, "A cell working for transgender people is very important because that way they can get their grievances redressed, and also, there can be an effort at giving them equal opportunities as the cisgender population gets."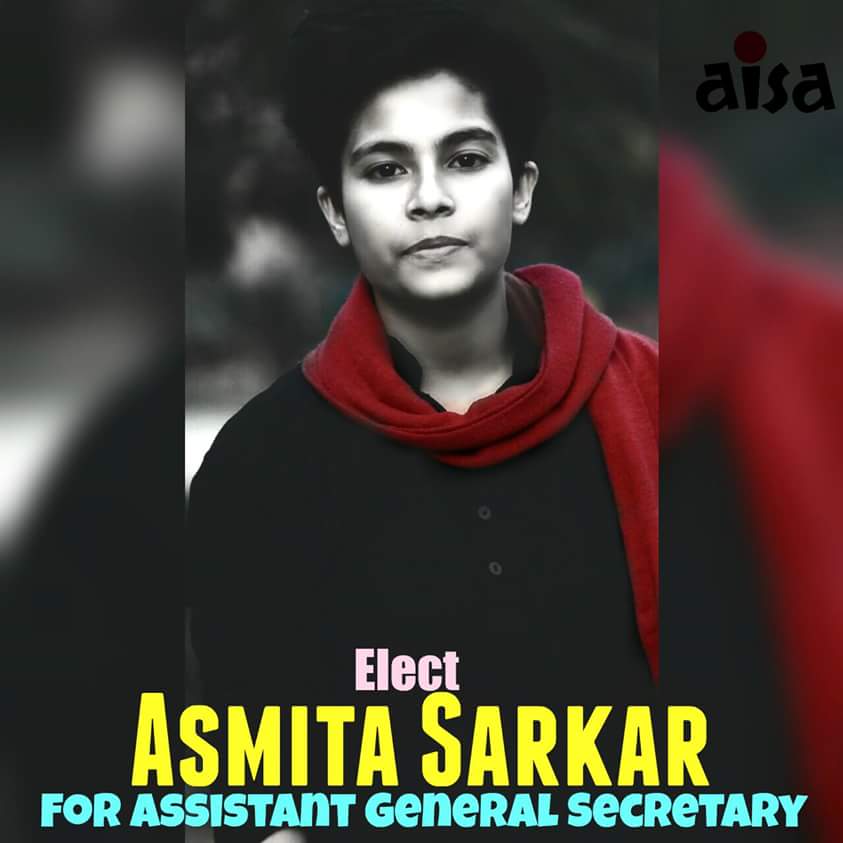 Anubhav Chakraborty, a student of a Kolkata college, says, "My campus is definitely not very queer friendly, a toxic masculine imposition makes it probably impossible for a queer person to come forward and be a part of the elections. Above all, there's absolutely no discussion about queer issues in my college campus, and I strongly doubt the societal awareness in my college's political lobbies." Highlighting the problem and why we need to talk about it, he continues, "Political consciousness revolving around college students drafts the political consciousness for the rest of their lives. If college politics doesn't engage in sensitive and raging issues of society, who will? Inclusion of queer rights in the agenda is important. There is a long way to go, and the overall attitude needs to change. It's high time people realize that alternative sexual orientations aren't things to be made fun of."
Presidency University is also seeing a lot of discussion about Queer politics recently, and takes pride in the fact that 'Mr.' and 'Ms.' Tag have been removed from the University's Freshers' welcome in an initiative by the last students' union run by Independents' Consolidation (IC), a non-partisan students' organization in the campus. An apparently liberal, elite institution, different student organizations are trying to include Queer politics into their agenda in their own way. Saumyadeep Ghosh, a post graduate student of Life Sciences, contesting for the post of Vice President on behalf of Students' Federation of India (SFI), says, "We are calling for an active Gender Sensitization cell where any sort of verbal, physical and mental assault can be reported and taken action against. We also want more workshops to make people aware about the struggles of the queer community, and the oppression it faces from the heteronormative, cisnormative, society." SFI has also been an active supporter of the workshop conducted in the University by Gaylaxy Magazine.
Subho Ganguly, another post graduate student who is contesting for the post of President on behalf of IC in the same University, rightly talks about how the University populations consists majorly of rural and semi-urban persons who have a latent homophobia and cites his own example too. He also talks of the apprehension of having a separate cell for Queer persons because it might lead to exclusion rather than inclusion. While this is an interesting debate, the coming up of such conversations definitely means a lot when it comes to reclaiming political spaces. Srimati Ghoshal, another post graduate student from AISA Presidency Unit, talks about her party's engagement with the queer and the marginalized in general, "On fighting marginalisation in general we have initiated two 2-month long campaigns where the students went to the most interior parts of the states to generate awareness and also teach people about their rights, should they fall victim to such discrimination. The struggle against 377 has been a long one, but with such huge parts of the organisation itself unaware of the details besides demonstrations and joining demonstrations by other organizations, we are also focusing on awareness amongst the cadre base." The SFI and AISA unit of Presidency University have taken a huge leap forward by adding to their list of agendas a demand of gender-neutral washroom – a great move towards a campus safe for trans persons.
Monabi Basu from Presidency University sums the necessity of such engagement, "If the parties put up an openly queer person in their portfolios, it would have been better for the queer folk present on the campus. I know the parties don't put much thought to LGBT+ issues as they do to sexism, racism, and class/casteism because of the low proportion of openly queer folk on the campus. But I feel like if the parties pushed for pro-LGBT+ agenda and more exposure to queer people, it'd help both the openly queer and the closeted queer folk. And there is some implicit homo/transphobia in the campus, which is not addressed often."

Latest posts by Sayantan Datta
(see all)