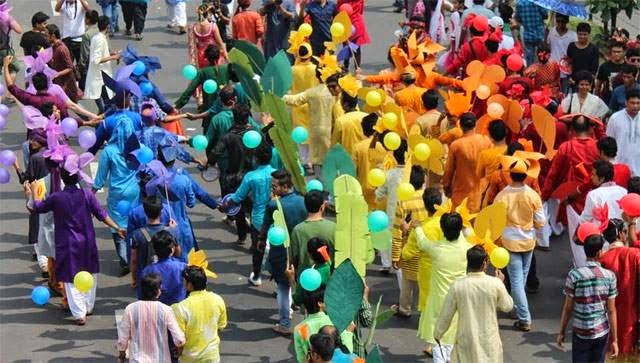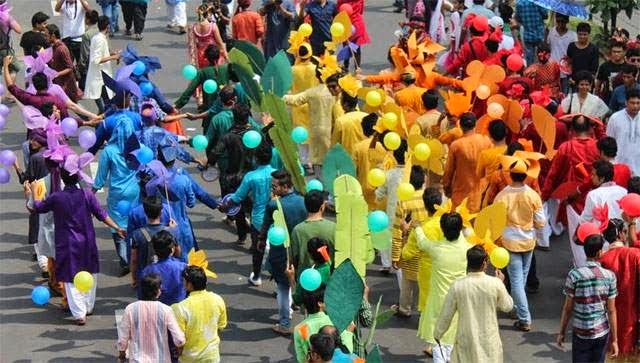 Bangladesh flaunted its first ever human rainbow on Bengali New Year, April 14, 2014. Inspired by the diversity of six seasons of Bangladesh, Roopbaan, the first Bangladeshi magazine on LGBT issues, organized the rally to celebrate diversity and friendship. No banner or slogan was used. Participants (almost 100) were asked to dress in one of the colors of rainbow; later adorned by matching handmade head- pieces and balloons, which made the whole rally turn into a rainbow amidst the main New Year's Day parade namely Mongol Shobha Jatra.
Since there was no apparent LBGT connections, the rainbow rally was applauded by the thousands who came to Dhaka University area to enjoy the festivities of Poila Boishakh, the first day of Bengali New Year. They took photos and selfies as the human rainbow walked from the Faculty of Fine Art building up to Ruposhi Bangla Hotel following the trail of Mongol Shobha Jatra. Excited participants expressed their solidarity to respect and celebrate diversity in Bangladesh.
In Bangladesh people are living in harmony with various cultural, religious, ethnic, linguistic diversities. Bangladesh Government's recent acknowledgement of Hijras as a new gender also widens the scope of gender diversity. It was meant to recognize their right to public celebrations along with men and women. With this rally they wanted to pay tribute to all those diversities in Bangladesh as they celebrate Poila Boishakh, aspiring for a country where people are tolerant and respectful towards diversity and do not discriminate others based on their differences.
Roopbaan and other newspapers published photos of the colorful procession that paraded streets from Shahbagh to Ruposhi Bangla Hotel. Some online news portals, however, reported this as the first open rally by the homosexuals. Organizers hope to make this a tradition in coming years with more participants.