Sukhdeep Singh explores how queer people across India are coming together for things apart from pride parades and film festivals
When Aayush came out to his neighbour, he was gifted a queer fiction book, which generated the hunger and curiosity within him to read more of queer literature. But among his own friend circle, queer themed books were seldom discussed, neither was he comfortable talking about such issues to his friends. "In such a situation, I felt deprived of the opportunity to read books that fascinated me," he says. Naren, a 35 year old man from Bangalore, always felt the gaze of people around him in the dance school that he joined, and this did not let him learn the moves fully. "I was hesitant because my moves used to be feminine and I used to get weird looks," he tells.
Naren and Aayush aren't the only people who have felt left out due to their sexuality in groups and activities they have always been interested in. Many others too feel that they have to suppress a part of themselves and that queer themes or issues are often over looked in such groups.
When homosexuality was decriminalized in Indian four years ago, there was a spurt in the number of parties being organized in cities, both big and small. This has been followed by film festivals and pride parades in many cities. But are such annual events enough for exploring one's interests? Is there more to a gay man than just parties and parades?
As India becomes more and more open and accepting of people with alternate sexuality, queer people are meeting other likeminded people at events apart from film festivals and parties. There have been an increasing number of groups and people who have come together based on their interests in various cities across India. For many, it is also a good way to make friends and form their own social support group. The number of such groups have grown in the past two years across India, and many have turned into a monthly, if not a weekly, meet.
Social Groups in the Past
It is not that there has been a sudden awakening among queer people in the country. Groups like Gay Bombay (GB) and Good as You (G.A.Y) have existed for over a decade in Mumbai and Bangalore respectively; providing a place for queer people to meet together and discuss about things at a time when for a large number of gay men, meeting other men from the community would largely be for fulfilling sexual desires. Both the groups started as a safe space to meet queer people, and have also helped nurture other groups today.
Good As You held its first meet in February 1994. Prior to that, most gay men would meet at bars or pubs, which were not the best setting to discuss LGBT issues. "It was thought that instead of meeting at a bar where no one is discussing anything LGBT, why don't we take it offline," says Vinay Chandran, a prominent figure in the LGBT circle in Bangalore. From then on, Good As You meetings have been held every Thursday from 6pm at Swabhava Office in Bangalore. "Thursday was chosen as it was neither the beginning of the week, when a lot of people have work pressure, nor was it the end of the week when people start making weekend plans," he tells.
Gay Bombay was started in Sep 1998, as a safe space where people could discuss things apart from sex. After being online for some time, GB held its first offline meet at a McDonald's in Mumbai, and later shifted to the house of one of the members. Soon, first and last Sunday of every month became reserved for a GB meet in the calendar of many people. In these 14 years, GB has conducted various events including parties, treks, picnics, film festivals, parents meets, cooking meets, kite-flying, speed dating brunches, raksha bandhan, special meets on topics like safe sex, HIV/AIDS, relationships, depression, finances, Section 377, and much more.
Vikram Doctor, a founding member of Gay Bombay says the group has only kept pace with the demands of people and expanded likewise. While film screenings now have over 150 people attending it, other events of Gay Bombay are equally popular and have an attendance of more than 60. Vikram observes that a lot of young and college going people have started attending the meets since 2009, and have also been demanding parents meet where they could talk to a parent and understand what coming out to their own family could mean.
"We realized that many parents too need help and started organizing meets where parents of gay kids could talk to other parents. A number of people attending this meet are also those want to speak to a mother to find out want someone of their generation thinks and get to know what coming out to their own parents could mean for them," he says.
Nakshatra, who has been attending the GB meets for last one year, says attending these events have made him more confident and helped him come out openly. "The first meet that I attended was Art meet, with paintings on LGBT theme. It was amazing! I never thought there could be such a thing for gay people. We presented wonderful art, and the thoughts behind every picture were unique. It made me confident." Nakshatra points out that in each meet of Gay Bombay, one can spot at least 10 new faces. To make everyone comfortable, often chits are given out for people to write their questions anonymously. All chits are then collected in a box and answered one-by-one.
Sports Groups
While Gay Bombay and Good As You are informal groups for people to just come and share their feelings, groups with specific agendas are slowly coming up and gaining popularity. One of the earliest of such groups is GRAB (Gay Running and Breakfast), which has been in existence in Bangalore since 2005. Vijay and Arvind Narrain, both fitness enthusiasts, realized that while there were avenues for parties and serious discussions in the city, there weren't too many places where people could meet on a neutral ground and focus on exercise. "In the West there are sports groups, chorus groups. We just wanted to start such kind of a club in Bangalore. We both started running at Cubbon Park and then would have breakfast … It would be a kind of get-together too. Some informal interaction as well as focus on exercise," tells Vijay. The runners meet at Cubbon Park around 9 in the morning every Sunday, and after an hour of running and exercise, gather at Airlines Hotel for breakfast around 10 or 10:30 am. Over the years, the breakfast part has become popular, and while there can be anywhere between 4 to 8 people jogging/running, the count shoots up to 25 at Airlines, with many coming directly for the breakfast.
Another sports related group that has come up in Bangalore recently and has been gradually gaining popularity is the Queer Bowling League. The group meets every Wednesday for a session of Bowling in the heart of the city, and now has more than 10 people turning up each week.
Literary Meets
Books, they say, are a man's best friend. While books, whether fiction or otherwise, can help you understand a lot of things, queer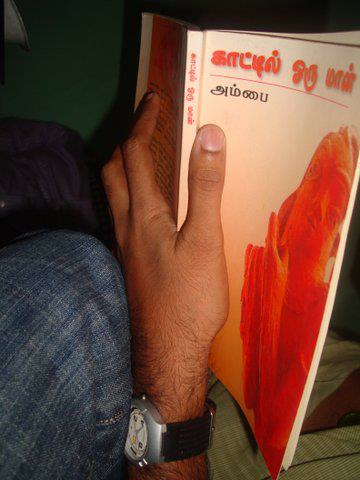 themed books aren't something that receive much attention in general discussions. Although various book clubs exist in many cities, it was a common complaint that they don't discuss queer themes often and there is unease around discussing such books. Rohini Venkatesh Malur, who started Queer Reads Bangalore, highlights the issues faced by queer people, "If you join a non-queer book club sometimes there can be issues about being out, or if you happen to be talking about queer issues, you might not be in a safe environment." Moreover, for many people, their social upbringing and conditioning often leads them to feel ashamed about discussing such things in public and involves a long struggle of self acceptance. Dr. G Shankar, a book lover and an Associate Professor with a leading private university, narrates, "My queerness is femininity in my walk, talk and gestures. Like many others, I have been conditioned early in life to believe that my queerness is something I have to be ashamed of, hide or to be covered up by some other forms of behavior or compensated by other achievements!" "It took me a lot of thinking, before I bought my first book on queer themes… When I bought Pink sheep in my home town, I was looking at the shop keeper's eyes to see if he looks at me with curiosity! I think it is a step-by-step process, considering the queer-o-phobia I have also been made to swallow!" he adds. Dr. Shankar now attends QUILT, Orinam's Queer Literature group in Chennai that has been meeting every month since Dec 2012.
"It is a place for like minded people, who would want to share their passion in book reading and passing on the same to others. Also it's a safe space to interact and get to know people beyond books," says Senthil, who was the force behind QUILT. "If we join a different book club, we are not necessarily going to read these books. This is the only one where you know for sure that you can talk about LGBT issues and books for certain," explains Rohini. "Literature has provided a good entry point for discussions around issues that are close to the community, from gender norms to struggles with the closet, to relationships," points out L Ramakrishnan of Orinam.
Bangalore also hosts a poet's meet every 1st and 3rd Monday of the month. Called Monday Mushaira, members of the group meet at a coffee shop at Koramangla where they read out poems, both original compositions and works of other poets.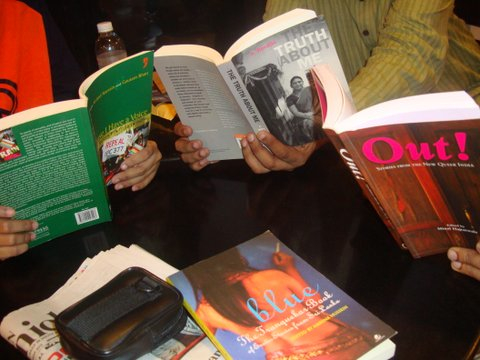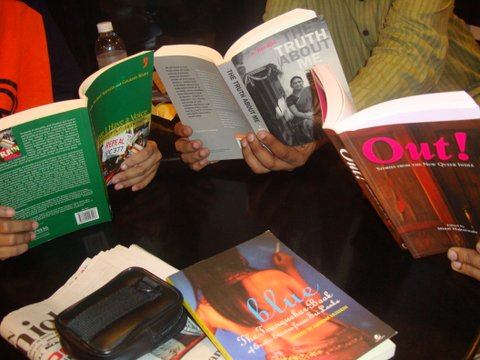 Treks and Picnics
The more adventurous ones are venturing out for treks and picnics, which can be a great way to explore places and develop friendship as well. A trekking group in Chennai existed under the Orinam umbrella. "We were a group of Orinam members who are nature-lovers and would rather spend holidays trekking in Western and Eastern Ghats' wilderness, wading in streams and sleeping in tents pitched on mountain slopes and mountain peaks than hitting bars and clubs," says Ramakrishnan. Gay Bombay too has been organizing treks and picnics to places near Mumbai. "Our last picnic, we had so many registrations that we had to hire two buses!" tells Mr. Doctor.
In Bangalore too, a group of gay men went for a small trek to Antargange, a place 60 km from Bangalore and known for its caves and rocky hills. Narendra Sinha, who went on the trek along with four others, says it was a remarkable trip and that he would be looking forward for more such queer outings, "It was something unforgettable and it turns out to be one of the most memorable events I have been through." The group is planning for their second trek soon. In Kolkata too, PPK (Pink Parties Kolkata) had organized a picnic last year. Similar treks and picnics have also been organized in Hyderabad. Kite Flying was the first major outdoor event that was organized by Wajood two years back, and has seen a steady stream of people coming in ever since for the event.
And it is not just the independent, bachelor gay man who is seeking support and friends. Married gay men in Bangalore also meet every 2nd and 4th Saturday of the month. The challenges faced by these men are different and unique, but they are often judged harshly by others in the community, making it difficult to discuss their life with others and find support.
"Married people mostly don't come to other meets because they feel they are being judged at, so they try to come and socialize here and discuss their problems. Since everyone is in similar kind of situation they feel comfortable coming here," tells Naren, who has been married for 10 years now. Interestingly, a significant number of people attending the meet are those who are under pressure to marry and want to understand the consequences if they were to marry a girl.
Providing a Platform
These hobby/interest based groups have not only helped people develop a sense of family and community, but are also turning into platforms to showcase individual talent. Gay Bombay recently organized a film screening where various films, including one short movie made by Nakshatra, were screened. This was followed by a discussion with the audience. Buoyed by the response, an ecstatic Nakshatra says, "There were around 150 people and there was no place to even stand. I guess it is special for me to have my films receive such an amazing response. My family was there and people were cheering me and were supporting a local film maker and GB gave me my spot. My film was screened next to Rituparno's film!!"
Similarly, Pink Divas, a group of gay men who meet every Friday in Bangalore to learn dance, performed at the Bangalore Queer Film Festival 2013. Monday Mushaira also provides a platform for young and emerging poets to present their work. Quilt too has had people reading out their own short story. "We also have a small question round during every meet. The purpose is to understand or mould our characters, if at all we have plans to pen a novel or short story in future, or even non-fiction," tells Senthil.
How many of these groups will eventually survive shall depend on the perseverance of the members too. Vinay informs that a lot of informal groups had started in various cities around the time when Good As You came up, but only a few survived eventually. "What a group like this really requires is someone to open the door and stay there, just in case someone finds the courage to walk in. People who stayed for two hours (in G.A.Y.) could be themselves and this was like a home to them. There are certain rituals we perform in our life, for a lot of people, Good As You has become a ritual in their life," he says.
As Nakshatra tells, for many, these groups are now like a second family, where people discuss trivial to serious issues, things they can't share with their straight friends or biological family. "It is a place where I felt really comfortable in the company of queer people who have eventually become good friends," confides Aayush, who now attends the meetings of QUILT.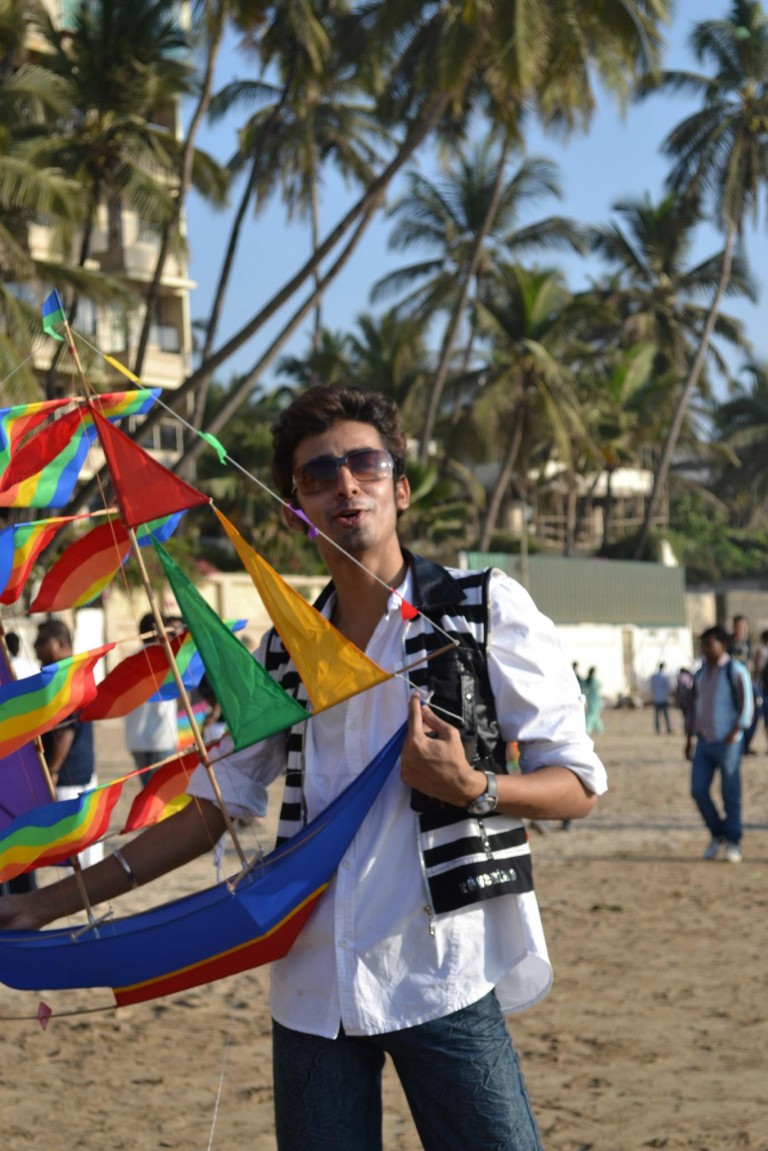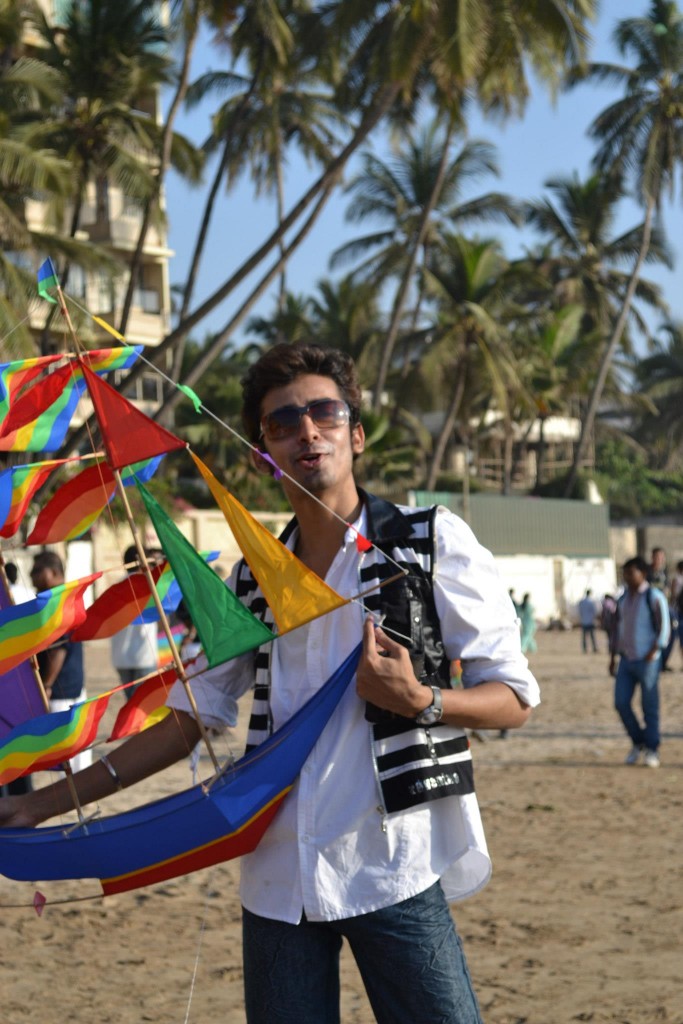 Latest posts by Sukhdeep Singh
(see all)