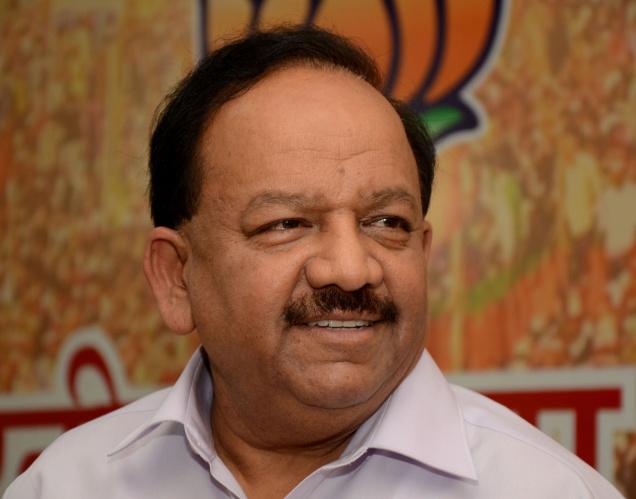 Indian health minister Dr. Harsh Vardhan, at the centre of a controversy for his views on AIDS awareness programmes where he stated that promotion of condoms should be secondary to promotion of the 'sexual integrity between husband and wife, which is in keeping with Indian culture', has issued a rejoinder clarifying his views. The clarification, posted on his Facebook page, however raises more questions.
Dr. Vardhan stated that he has been stressing "the need for safe sex using a combination of condoms and discipline which is in line with the Abstinence-Be Faithful-Condom (ABC) line of UNAIDS which has yielded great success in Uganda and now forms part of the anti-AIDS campaigns of several countries".
The UNAIDS fact sheet on HIV prevention, while mentioning the ABC approach as a line of strategy that could be adapted depending on the cultural context, population targeted and stage of the epidemic, adds that for women and girls in developing countries this approach is of limited use because of their lack of social and economic power. They cannot negotiate abstinence from sex nor demand that their partners be faithful to them or use condoms. It adds that condoms continue to be one of the most effective weapons in curbing the spread of HIV and have been found to be effective in over 90% of the cases when used correctly. Incidentally, it also states that there is 'no evidence that promoting condoms leads to increased promiscuity among young people'.
In Uganda, the ABC approach was spearheaded extensively as a policy approach by President Yoweri Museveni for prevention of AIDS and has been promoted by his government as a success story in reducing the prevalence of HIV in the country. While estimates have pegged the reduction in HIV from 15% in 1991 to about 6% in 2007, there are conflicting reports on whether this model alone has contributed to the reduction. While some studies have suggested that monogamy and abstinence could have played a role in the decline, others have questioned the scientific basis of measurement of HIV prevalence in Uganda and also efficacy of the ABC model. The model focuses only on prevention but not on the cure of those already infected with HIV, and hence a significant part of the decline in HIV prevalence could be attributed to the death of those who had already contracted the disease and received little treatment. The ABC model also does not address other high risk groups such as homosexuals, intravenous drug users and sex workers. Significantly, the ABC approach is strongly encouraged by evangelical churches in both the USA and Uganda. This approach was also encouraged by the George Bush administration in the United States under the U.S. President's Emergency Plan for AIDS Relief.
Dr. Vardhan went on to add in his defence that his statements do not constitute a comment on the criminalization of same sex behaviour in the country as the matter is 'beyond the domain of the Ministry of Health and Family Welfare'. There is scientific consensus that homosexuals do constitute a high-risk group for HIV/AIDS and that interventionist programmes should necessarily address them. Incidentally, Uganda which has been cited by Dr Vardhan as a model for AIDS prevention has recently enacted a legislation (previously called the 'Kill the Gays Bill') awarding life imprisonment and penalties for anyone supporting LGBT rights or not disclosing the identity of homosexuals.
Dr. Harsh Vardhan added that "the culture of regarding husband and wife as halves of a whole should be upheld in the modern age where one sees all-round crumbling of values", implying that values and morals should constitute the guiding philosophy of the government's communication strategy on HIV/AIDS.
Latest posts by Dharmarajan M
(see all)