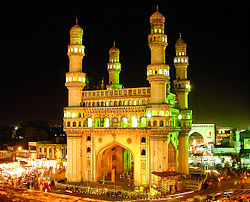 After being denied permission to hold a pride march in the city last year, Hyderabad Police have finally given the permission for a gay pride march, which will be held on 3rd February. The pride parade will begin at 1pm from P V Narasimha Rao Samadhi and culminate at People's Plaza, Necklace Road. The parade will consist of various organisations and individuals walking together to raise awareness of LGBTQ issues.
A concept note prepared for seeking permission for the pride reads, "LGBTQ people in Hyderabad have been a part of the larger cultural universe of Deccan as attested by the prominent role of the MSM/TG community, historically and culturally. From the establishment of the
Moula Ali shrine to their role in folk religion and folk culture across Deccan, LGBTQ people have had an undeniable cultural and historic presence." It further talks about the invisibility of LGBTQs in the city today, "Physical spaces where homosocial/homosexual behaviour was/is sheltered from normative gaze, non-normative sexual practices catalogued in literature and common vocabulary speak of a marginalized, yet conspicuous social presence. Yet, the rise of "modern" social norms has translated into virtual invisibility for people identifying with both "traditional" and "modern" LGBTQ identities."
However, unlike other cities, organisers have shelved plans of holding any pre-pride events considering the volatile political and communal situation in the city currently. Organisers are also wary of attracting undue attention from the religious groups in the city. "The problem with organizing pre-pride events is that if we declare anything beforehand, it might actually invite some trouble from the anti-LGBT groups here," said Chanakya. "We want to avoid any such pre-exposure so that there are no difficulties in going to the pride and we want it to be happening at any cost."
Post pride, a few events like dance performances by transgender groups are planned in the evening at People's Plaza where the march ends. People's Plaza is a well-known avenue of cultural, social and political expression in the city. The Hyderabad Queer Pride, which is an initiative of city-based non-governmental organisations, queer individuals and allies, will be the first ever large-scale public LGBTQ event to be organised in Hyderabad.
P.S. – The time of the pride has been changed from 2pm, as reported earlier, to 1pm.