Geetha was in a plethora of emotions when her child told her that he is a transman. She did not know how to react to this never expected news. It took some time to control her emotions, and eventually, she accepted her queer child who was born as a girl but identifies as a transman. "Although I was in a plethora of emotions such as dilemma, denial and fear, I was clear that I am going to support him no matter what," says Geetha. She feared how her relatives and people in society will react to her trans son.
To understand the LGBTIQ+ community and her trans son better, Geetha read many books and also got connected to queer community groups, especially the group of parents of queers, to be comfortable to talk about LGBTQ subject and her trans son. She confirmed that her son was in tears when he came out to her.
Since coming out, Geetha says that she has lived her son's life with him to understand him better, which eventually made their relationship stronger than earlier. "The journey I lived after I came to know about my son's identity, our relationship strengthened and we became much closer to each other than earlier," said Geetha. She is 58 years old, a resident of Bangalore and had been practising as a mental health professional for years. Now she wants to devote her profession for the LGBTQ community.
Geetha is not the only one who, despite having no knowledge about the community, managed to control her emotions and over time accepted their queer children wholeheartedly. There are many proud and happy parents of queers out there.
Akshta from Gurgaon was in denial when she came to know that his younger son is gay. But, she could not vent her emotions out because she promised that she wouldn't react. Her elder brother informed her about her younger son's sexual orientation. That time her son was in United State pursuing 12th and was 23 years old.
As an educated parent, Akshta tried to find more about the LGBTQ community on google but was overwhelmed to see so much information about the community, its health issues and much more. She could not even talk about this with his son initially because she did not want to upset him with any questions that may be hurtful as she did not know much about homosexuality, rather the entire LGBTQ community.
She shared the news with one of her close friends. "If you don't accept your child, then who will?" said Akshta's friend. She pointed out that "you accept your child, but you are in denial of his/her queer sexual orientation."
Akshta is now 56 years old and was into education and public policy with international forums. Now her son is 33 years old and pursuing PhD in the United States. For Akshta, it took about a year to understand the LGBTQ community by reading books, articles and meeting parents like her who have queer children.
"Although I was reading various books, articles and watching LGBTQ movies, but I was always in search of a community where I could share my concerns and get to know the larger picture about the community to understand my son better. That is when I came across a group name 'Sweekar: The Rainbow Parents' from the book Queeristan. Now I feel more comfortable and have better understanding of my son," added Akshta.
Akshta and her husband were in so much denial about their son's queerness that they tried approaching various doctors, so-called spiritual gurus and others who claim that homosexuality is a disease and can be cured. "Eventually we are sure that it is absolutely natural. Now we know how much he has suffered being in the closet and not able to come out earlier. We feel guilty about it," expressed Akshta. She also said that it took more time for her husband to accept their son's sexuality.
Connect the dots
Parents after knowing about their queer children and understanding the community better, realise that they could have connected the dots if they would have known about the community earlier.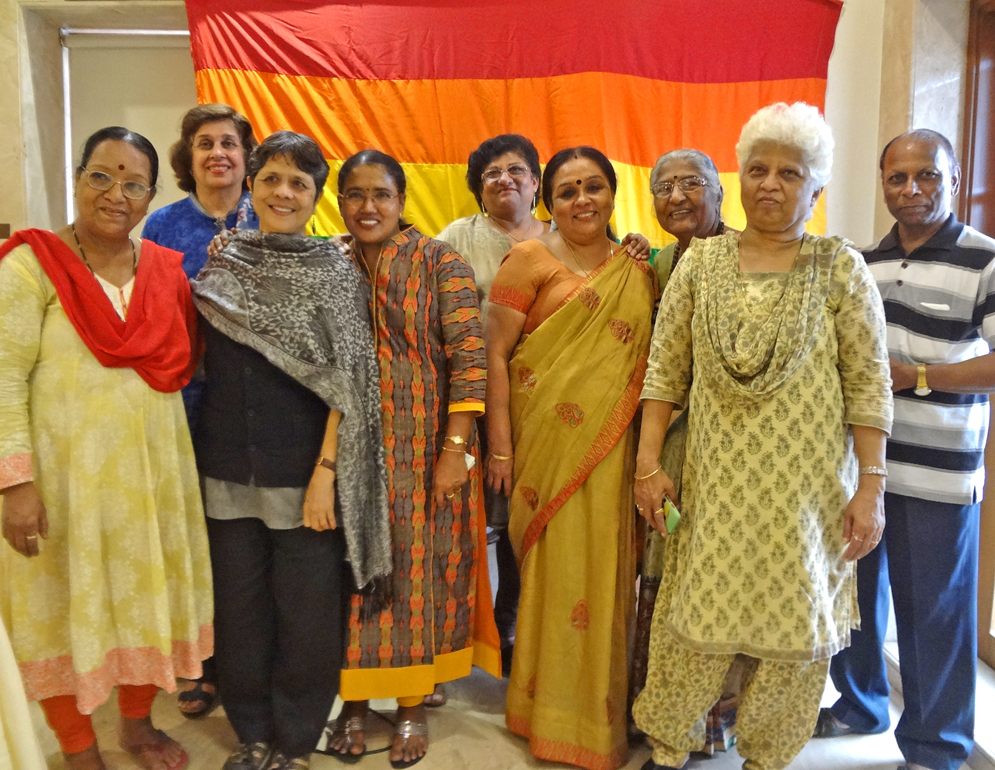 The daughter of Kolkata's 48-year-old Shanto Bakshi would share, like and comment on posts related to the LGBTQ community on social media. But Shanto never realised that she was doing it because she belongs to the community. He thought that his daughter supports the community. "I thought she shows her respect towards the community because I worked for them, especially sex workers," told Shanto. He has been working in social sectors for years and also worked for the community for some time in his professional life.
However, one day, when Shanto's daughter Tessa was about 14 years old, she messaged him in the evening- 'I am a bisexual'. After some time, she approached Shanto to talk about it further. He was normal and asked his daughter, "Have you done your homework for tomorrow's class?" He further said, "She asked me if I had any problem with her sexuality and I said 'What's the problem in it? It's as normal as being straight.'" His daughter is now 18-year-old and pursuing 12th class.
While working for the community as a social sector professional, Shanto believes that he was part of many events of the LGBTQ community in Kolkata. He also believes he might have also attended the first queer pride held in Kolkata in 1999. "When she came out to me I realised why she was supporting the community through social media," added Shanto.
Akshta's son was also compassionate about the people of the LGBTQ community. She narrated a story that proves it. Once a man was passing by and she said, "he is gay" in a not-so-normal way. Her way of identifying a person abnormally made her son angry. "I did not notice these signs earlier, but now I know where this was coming from," said Akshaa.
Delhi based Mohit's mother Kiran, 54-year-old, told that Mohit used to say he did not want to get married from a very young age. However, she would say it's his choice, out of freedom, to choose what to do in life. She never thought that he was saying this because he is not attracted to the opposite sex and doesn't fantasise opposite-sex marriage.
Kiran's son told her directly that he is gay in 2018 when he was around 25-year-old. Although she did not know much about gays and lesbians, or about the community, but she knew about the transgender community. When Mohit explained to her what gay meant, she understood and thought, "If some can be transgender, then why can't people be gay or lesbian?" However, it was not so easy, she went through the dilemma and denial while learning about the community through Mohit and connecting to the groups of the community.
"If we accept our children as who they are, they will be happy and hence as parents, we will also be happy," said Kiran. This was the philosophy that made her journey of acceptance easy for her and her son.
Lucknow based 52-year-old Anindita Nandi's daughter Megha would keep short hair and also wear boy's dresses. She thought that her daughter is a tomboy and had no problem with the way Megha would carry herself. However, one day in 2017 when Megha was making posters for the first LGBTQ pride in Lucknow, she asked if she belongs to the community. "Megha replied 'yes'," said Anindita. That is how her daughter came out to her. Megha is also an LGBTQ activist in Lucknow with Awadh Queer Pride.
Anindita was confused as she did not know much about the community. Megha and her elder sister explained to her about the community. "I am proud of my daughter. After knowing her sexual orientation and the community better, I realised why she was carrying herself the way she would. Even now she keeps short hair and dresses mostly like boys," told Anindita.
These are the signs that indicate to parents that their children may belong to the LGBTQ community, but not necessarily. It is advisable for parents to understand children better and create an environment at home that gives them courage and liberty to express themselves as who they are. This could help parents to avoid any consequences that make the situation worse for children as it was the case with Shristi, who hails from Mumbai.
60-year-old Shrishti's son used to say that he wanted to become a girl. But, she would take it as a childish naughty act. Sometimes, she would tell her son that it can be possible once he is an adult, just to humor him.
However, as her son entered Class 10, he became more and more distant from her and depressed. "We were very friendly. We would share everything with each other. However, the more he grew, the more he became angry, silent and depressed," shared Shristi. She was a government doctor and also worked as a chief medical officer. She is a divorcee and the only family member of her son.
Shristi approached top psychiatrists to try to understand the reason for her son's depression. However, they failed. A physchiatrist told her that her son is gay, and also suggested her that it can be cured. "But, I had no problem accepting my son as he is," confirmed Shristi. But, the news was unexpected and it was a little tough to digest the fact her son is gay.
Shristi's son went to the United States for studies and settled there as an engineer. There, he got to know that he is a trans woman and that his body and feelings are different. That is why he has been going through depression. He then went through sex reassignment surgeries (SRS) and now "looks like a beautiful girl and wants to be called as woman, not transwoman," told Shristi, while laughing proudly. She further said, "I could have realised her actions that were indicating that she is queer and talked to her which might have saved her from depression."
Society, parents and bits of advice
Although these parents have accepted their queer children, Indian society is yet to be as friendly and inclusive towards the LGBTQ community as it should be. According to a 2017-18 survey of people in eight states, done by the Centre for the Study of Developing Societies (CSDS) and Azim Premji University, it was found that 28% agreed or somewhat agreed with the statement that sexual relationships between two men or two women should be accepted by society, 46% disagreed, and the rest had no opinion. The acceptance rate is very low in Indian society.
This affects the parents who support and accept their queer children. Take for example Akshta who is very comfortable in accepting her son, but is always concerned about relatives and acquaintances. "Am I okay with his (my son's) sexual orientation just because he is not here (in India) around us? Will I be able to introduce him as gay to my extended family, friends, relatives and others once he is here?" Akshta always asked these questions with herself. To dispel these concerns, she has planned that she will introduce her son as queer to everyone once he is in India. Now, only a few know about her son.
That is the reason accepting parents of queer people believe that they should be very comfortable in talking about their children with others to shun the social stigma associated with it. "People laugh and make fun about something that we want them not to know but they somehow know. If we are comfortable and confident in talking about the community and be proud of what our children are, then society will have no choice but to act normally towards LGBTQ people," said Shristi.
Another parent from Mumbai, 53-year-old Jyoti, said that if some react differently (homophobically) then parents should better ignore them. "Most of the relatives and people who I meet have no problem with the fact that I am a mother of a queer child, at least not in front of me, but there are some who began reacting differently as the news of my son spread slowly. So, I avoid talking and meeting such people," said Jyoti.
Even though the more the LGBTQ community is talked about, the more it gets normalised, but it is subjective from person to person. Chitra -parent of a queer daughter- from a village which is 100 kilometres away from Alibaugh told that only she knows that her daughter is lesbian. "If you think that your relatives and neighbours will react harshly towards your queer child then don't share it with anyone. But always support your queer child and be proud of," told Chitra. Her daughter is into the tours and travel business and supports the family financially. "She is my son although by gender she is my daughter," said Chitra.
Every parent of queer person suggests parents to know as much as possible about the LGBTQ community and get connected to the groups of the LGBTQ community. The journey of knowing your children and understanding the subject is a long way, "but the sooner we are aware of the subject, the sooner your child has options and can muster the courage to come out. As result, the dilemma, trauma and depression your child goes through for being different that society and as parents fail to accept easily can be reduced or avoid,ed" said Akshta. She also suggested parents to read the book Queeristan authored by Parmesh Shahani as it has a separate chapter for parents.
"It's normal to be angry, sad and disheartened. But don't react. Talk to your child. Understand the subject very well. Meet people of the same community. After all, he/she is your child who you want to see happy," suggested Geetha.
(Note: Some names have been changed to hide their identities)
Latest posts by Bilal Khan
(see all)