Photography is an art which shows how differently everyone sees the world around us. While checking an online LGBTQ support group, Raj Pandey realised the need for a group of enthusiasts of this art from within the queer community. He saw a similar passion in one of the commenters of this group, Karthik Sharma. The two got in touch and came up with QGraphy: a photography project which lets LGBTQ individuals meet and bond over this shared passion.
Another reason for them to start this project was the dearth of photographers for the varied number of LGBTQ events and groups that have cropped up all over India. "A lot of queer groups have existed for a long time now and all of them do wonderful work on various important issues for the community. However apart from a few random clicks, which were mostly clicked on mobile phones, there was no proper coverage nor a platform showcasing the splendid work these groups did. There were no dedicated photographers or coverage personnel for these events. Most of the times such events did not have a budget for hiring professional photographers," they say. Seeing this void, Raj thought of creating a group that specifically and only catered to this need.
QGraphy's Facebook page began humbly. In the beginning, it only involved friends of the two founders, who had similar interests. Gradually, the community grew further and now they have over 1200 members. "Initially, people thought that only a DSLR camera can click good pictures. But then now their attitudes have changed. Also, due to our encouragement, cell phone clicks have now really grown and improved. In fact, people have always been loving and appreciative towards all that we do. We see more and more people now experimenting with Photography as an interest. That's a positive sign," say Pandey and Sharma. They also organise a competition with a changing theme every week, winners of which are announced on their Facebook page.
QGraphy also ventured into photo walk events, where they received great support, and were also featured in online platforms like Mid-Day and Evensi. However, a few participants of their events would walk away once they realised it was an LGBTQ event. "At QGraphy, we have always been inclusive towards allies and to anyone who is generally interested in photography. Yes, there were events where a few folks turned up and upon realizing that queer people were part of the photowalks or workshops, they left. We generally see apprehension and scepticism from people who are unaware of the community. Even so, there have been a lot of our other walks and events where people joined in, shared smiles, had fun and stayed back right till the end," they say.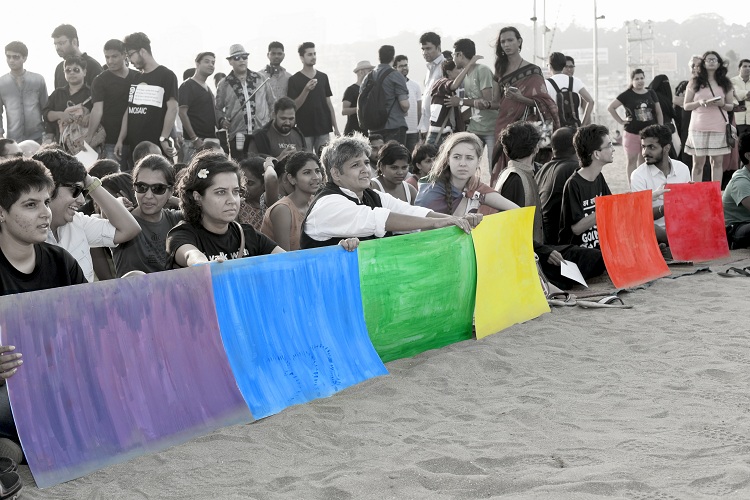 The QGraphy project also believes in giving back to the community. They do not charge for photography, equipment, photo-processing or travel costs for covering any LGBTQ event which approaches them. Apart from Mumbai / Pune Pride March and Kashish Queer Film Festival, they have also covered various events organized by The Humsafar Trust, GayBombay, Yaariyan, Gaysi, Rainbow Voices, Dancing Queens, QueerAdda , QKnit among other groups. They have also partnered with Gaylaxy Magazine in order to provide pictures to go with the articles published.
"When we associate ourselves with an event as community partners for photography or video coverage, we begin by identifying the kind of event it is going to be (concert, play, discussion). We then coordinate with event organizers or organizing groups for more details on the event flow or any special highlights they may need. This process is then followed by assigning ourselves and / or other volunteers for the coverage (the number of volunteers depends on the scale at which the event is to happen). The community thus saves on exuberant costs which they would otherwise incur whilst hiring professional services. The only expenses incurred are those when event organizers have specific needs and when we need certain equipment to cater to those needs; that is when we seek costs towards expenses for renting out equipment. We are all part of the same family. We do it for our family."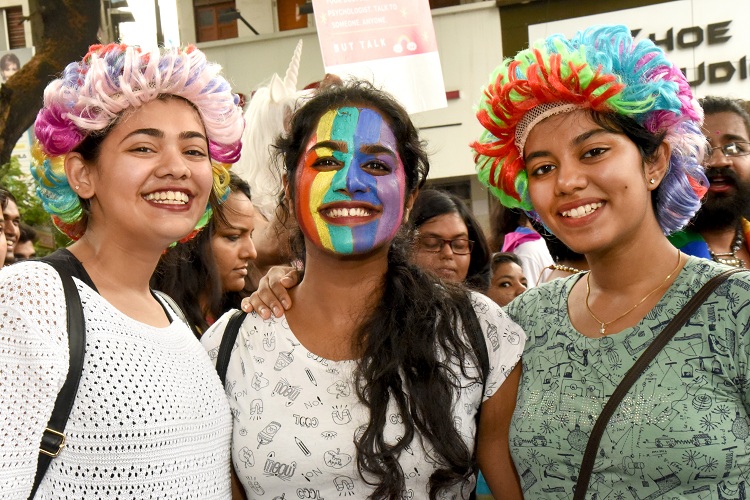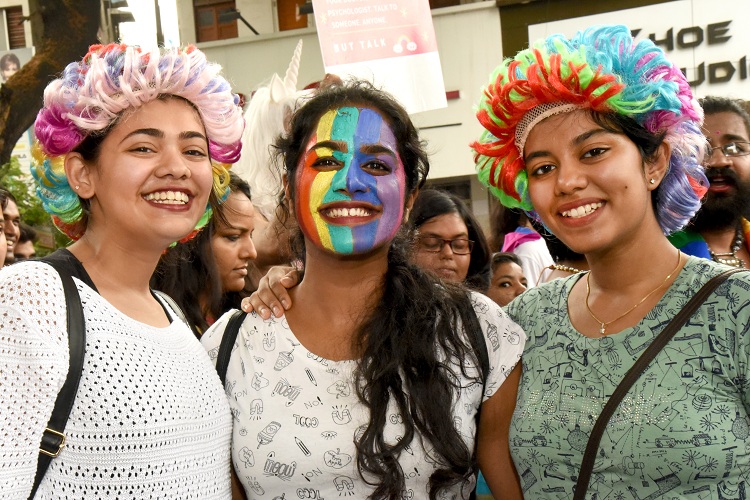 The team has received a lot of positive response from their online page, and their coverage of community events has benefited the community as well, in creating a greater visibility of such happenings. To Sharma and Pandey, the impact that their visuals itself make is rewarding. "A lot of members from our group tell us about how their passion for photography has grown because of QGraphy. They feel super confident about their clicks and now have a platform to showcase their talent. Due to their involvement in the group, a lot of our members have now purchased a DSLR camera. Individuals who were camera shy are now more confident to pose after seeing good pictures of themselves. We absolutely adore the pictures that bring a smile to someone's face, or when someone sets our clicks as their personal profile pictures and thank QGraphy or when our clicks are used in any media or publication platforms to create awareness. We feel the purpose for which QGraphy is in existence is being served."
Latest posts by Tanika Godbole
(see all)