"It gets behtar ('better' in Hindi)" and allies supporting equality were the two dominant themes of this year's Mumbai Pride March that took place yesterday, on Saturday, January 28, 2017 in a closed loop weaving through character-laden areas of Opera House and Kennedy Bridge, before returning to the starting point of the historic August Kranti Maidan of South Mumbai. The gentle, late afternoon winter sunlight proved ideal for group selfies – and the warm feeling of nurturing and coming together of a community, waiting in a state of limbo with respect to the draconian Section 377 for 4 years, after being stunned by the adverse Supreme Court decision of December 11, 2013.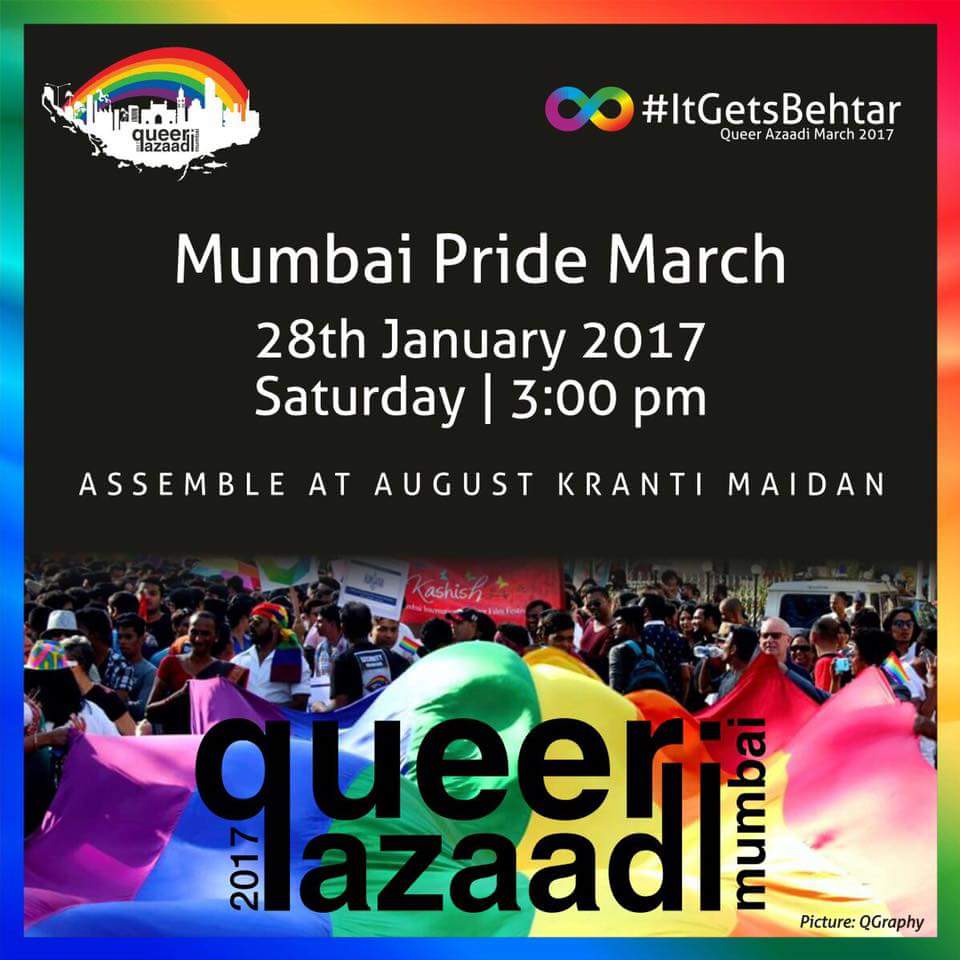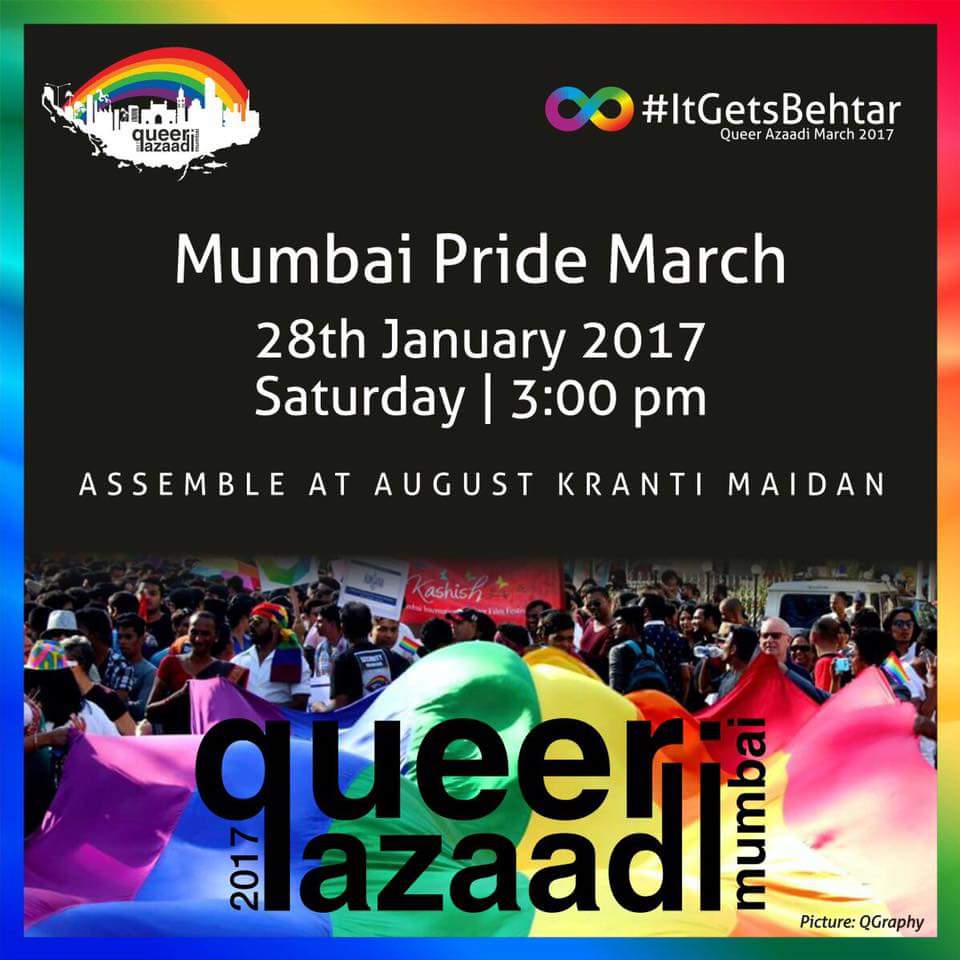 From its inception in 2008, the Mumbai Pride March has been smack bang in the center of the tumultuous history of India's queer history. The special factor this year was the note of encouragement to youngsters by queer and straight groups. The Pride Parade was the culmination of a month of 25 events ranging from a Bollywood gay musical, a photo exhibition, art-making workshop, cricket match and an international LGBTIQ choir collaboration, and many more.
"I came on Tuesday evening from Chennai for Mumbai Pride, and am staying at the home of a friend Bala. Mumbai comes together as a community which felt great. People were very friendly, welcoming, warm despite not being from here. I think its the best Pride I had in India. People are so passionate for the cause, it was great to see that", said Ram Rao, 34, dressed in farmer's garb and holding a banner about the need for solidarity of queer folk with the suffering farmers of India.
"For me this time, it was very nice to see the UK choir Pink Singers singing harmonies of Whitney Houston's "With somebody who loves me" on the route amid the cacophony of noises of Bombay. Secondly, a lot of families came, like cousins, siblings, uncles and aunts. The dresses that the participants wore were also diverse and beautiful", said Ashok, 28, attending his third Mumbai Pride in a row.
Groups like Mothers For Equality and Future Doctors For Equality were heartfelt, eloquent and forceful in their support for the rights of sexuality minorities, who where their own children and patients respectively. While the doctors asserted that alternate sexualities were not a crime, the mother's lamented the social discrimination faced by LGBTIQ children and vowed to protect them.
"I had a lot of fun. There was so many people just celebrating. What struck me was the diversity of people who were there, across various classes, cultures, sexuality, where they came from, professions, families. It was fascinating to hear all the conversations around me in a swirl of rainbows", said Sneha, 32, who works for a multinational company in Mumbai.
"The Nasik Dhol (drummers posse) just makes me delirious and crazy. I danced as I dance at the Ganesh Festival or any wedding or event in my family. There are so many boys here lining the route who are part of the community but who yet don't have the courage to march. Some day they will", said Sana, 41, a transwoman who works in community support.
"The Police contingent who guided the march through the congested streets, and the motorists who showed herculean patience in normally super-impatient Mumbai should be applauded too. I'm also thankful to those who came from various countries and supported us", asserted Samir, 25, who works as a lab technician.
The festivities, which began at 2:30pm, finally ended at 6:30pm with tired but happy marchers wandering off in groups to nearby restaurants and watering holes to look at pictures and videos and chat about yet another Mumbai Pride gone successfully by.

Latest posts by Sachin Jain
(see all)