So how have you been all these days? Well back in Kolkata the heat is up and about, and am not talking about the men, but the weather out there *sigh*.
It's humid as hell and sticky too, but wait, while heading to my bridal parlour each day, I often come across tufts of man rugs flaunted right on my face. At times it is amusing, while there are days when I miss my stop just because I get lost drooling over the manly-macho looks of a confident man baring his manly rugs- his chest hair!
Coming to the point, here's my disclaimer as usual before anyone screams hoarse!
It is to be noted that this post has been written with the intent of IMO only! Kindly take no offense and if you do, may the force be with you!
Without much ado, and while it rains outside (the weather Gods aren't besties to me it seems), here are 23 hot man rugs over time I have watched in movies, in the magazines, at fashion shoots and just about anywhere online or in print. Feast your eyes darlings, but first- Why are hairy men so goddamn sexy?
I once had tryst with a hairy guy, and guess what, while he stripped down to his bare essentials and I grabbed the rest out with gusto- he still stood there with his man rug all wired and willing to be explored. His man-scent emanating from them made me wild.
I am no scientist to answer that, but then again, I find hairy men sexier than the rest (sorry smooth chickens), simply because I feel so- I really cannot point out why! And I do not suffer from pogonophobia (fear of beards) as such!
"According to a survey conducted by Manhunt, gay men prefer their partners to leave their body hair alone." (Source: Queerty.com)
Alec Baldwin
Any doubts the man is super hot and probably a man rug who could keep you warm all through the winters- we hardly have winters, but then who needs a reason to snuggle up to this hotty daddy!
Tom Selleck
Known for his famous moustaches, imagine those lips entwined with the wiry hair biting you all over- okay enough! He is a man whose follicles have bestowed him at every inch and more (wink). Me heart the furry daddy!
David Hasselhoff
Seriously back off Pamela, all through the 90s watching Baywatch for me was for David darling, not you!
Akshay Kumar
Handsome as ever, the older he grows the yummier he gets and back in the 90s he was the reason why most of my nights went sleepless! Why the hell did he have to wax!
Akshay Khanna
In the movie Race I gasped for breath when he flaunted his hairy chest, and till now he hasn't waxed them all- yippee!
Sunny Deol
Sunny Pajji, the only man I adore for his chivalry and smile, and a JATT hotty that too. Hair and more hair, Sunny taught me the wildest imaginations while growing up!
Paul Rudd
And why wouldn't I want to romanticize curling up under the blanket with this hot stud- I'd get a free bear hug and more.
Jake Gyllenhaal
Sigh! Where are men such as he? Just where are they hiding?
Jesse Metcalfe
Look at the man rug he offers, just take a look at this piece of macho goodness; drooling would be an understated emotion with Jesse!
Casper Van Dien
Totally the boy who you can take to mommy and talk things about, and guess what, he'd be the free warmth you'd need on a moonlit winter date night out!
Clive Owen
Yoooohoo Clive, if the fangirling bores you ever, you have a list of droolers from the male audience to cater too! Back off everyone!
Thomas Jane
Sounds like a saint's name, doesn't look any bit like one though. Who cares? I like my men unsaintly and wild!
Roger Federer
I wish I was employed as a ball boy when he played, life's little pleasures then would have totally a different meaning for me, each time he took his shirt off!
Henry Cavill
Do I need to say anything else, anything more!?
Antonio Banderas
There's always something mystical and sexy, vibrant and hot in the air of Latin America, and the hotness package named Antonio, proves the same.
Chris Evans
Okay enough!
Pierce Brosnan
I need help Mr. Bond, someone's stolen my rug away and only you could be the best replacement!
Andre Agassi
Sigh! Growing up I had a big time crush on this man, and my heart broke the day he married! Lucky you Mrs. Agassi!
Ashish Sharma from Gunahon Ka Devta
Reason enough why I am watching sitcoms these nights!
Shoaib Akhtar
Wild beast, raw, rugged and a fantasy for most gay men for sure- there will be a battle to win a chance to play with his chest.
Zaheer Khan
I don't know what happened in that pool for him to look so sexy, but he was swimming with the other boys that play international cricket with him!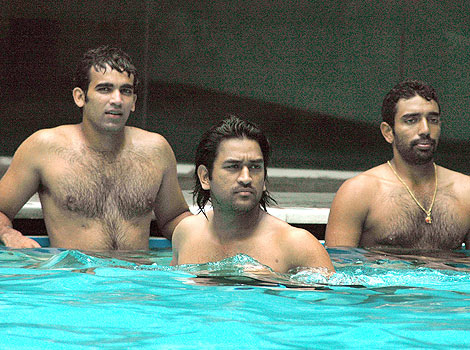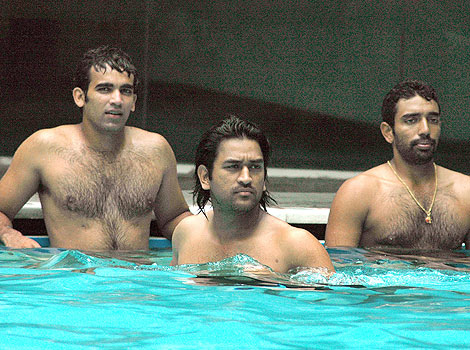 Arya Babbar
He proclaimed to have been missing BEER AND SEX when he was questioned by Salman Khan on Big Boss last year. Hello, you raging pheromone factory!
Prithviraj
I really never knew much about him, until I watched his movie Aaiya, where one scene captured my fantasy for life- he was bare chested and lying on bed! Sweaty as hell!
Winters are coming, and I need a rug or two to keep me warm and cozy! Any one else you think of ( I am sure you have your favorites too), who could double up as a man rug? Write in!

Latest posts by Rohan Noronha
(see all)