When Vaani Kapoor's character Maanvi Brar first appears on the screen, she is shown as a 'normal' girl caught up in the rigmarole of dressing up and putting make-up. However, she also pops pills; an act that immediately raises questions and puts her in a 'different' league. As she confidently walks out of her house to seize the day, the background music takes the form of bouts of laughter, as if the society is laughing at 'her act of playing a woman'.
Maanvi is a trans woman. It means Maanvi was biologically a man before going under the knife to become a 'complete woman'. In her mind, body, and soul, she is a woman. The journey of her life, so far, has been characterized by gender dysphoria, pain, rejection and self-acceptance. Her supportive father mitigates the pain that she harbours in her heart due to her mother's rejection. She has established a new life for herself in Chandigarh as a Zumba instructor, away from the prying eyes of her relatives and former acquaintances in Ambala. She dares to fall in love with men despite the inevitable heartbreaking situations that she will find herself in, once her true sexual identity comes to light. So, when Maanvi meets Manu (Ayushmann Khurrana), a gym rat and the epitome of aggressive masculinity, she keeps an open mind regarding the matters of the heart.
In an interview to Deadline, Vaani Kapoor confessed that there is no reference point in Hindi cinema regarding the depiction of a trans woman who is at the centre of things. On top of that, Chandigarh Kare Aashiqui presents her as the love interest of a cis-het man. There is no running away from the fact that Vaani Kapoor is a cisgender actress too. However, she pulls off a 'convincing performance' and the strength of it lies in her not succumbing to formerly set stereotypes as to how a trans person should behave. The light-hearted romantic moments of the film are an act of rebellion when viewed from a trans-tinted lens. Singing and dancing has been the USP of Hindi films since the time of its inception. This seemingly outdated formula has given a new lease of life to a trans woman; a chance to be a part of the mainstream. However, one cannot deny that despite Maanvi's fair share of struggles, her character is privileged. This is more evident when she shares screen space with another trans woman who begs at traffic signals for a living. Also, her character is bound to have a hard time getting the stamp of approval from the Indian audiences. The reason being that the idea of a trans woman being a woman is an alien concept to the majority of the Indian masses. And, in the film, Ayushmann's character Manu is no exception either.
Ayushmann Khurrana plays Manu, a self-confessed 30 year old, fitness obsessed guy still struggling to make a breakthrough in his 'fitness career'. He is the textbook definition of masculinity. When Vaani's character Maanvi reveals her true identity he feels angry, repugnant and most importantly 'cheated'. The idea of a 'trans girl' is beyond his comprehension. However, when the feeling of being 'cheated on' subsides and the reality of the situation sinks in, he makes a genuine effort to understand the intricacies of a trans woman by talking to doctors and to trans people within his reach. In what can be called a path-breaking moment in the film, he unhesitatingly admits that having sex with a trans girl is just as fun as it is with any other girl; even better, as per his experience.
It would have been ideal if an actual trans girl was cast instead of Vaani Kapoor but that's a wishful thinking and also impractical in a scenario when filmmaking itself has become a riskier business than before, thanks to a global pandemic. In an interview to PTI, the director of the film Abhishek Kapoor said – "I have directed this movie from the standpoint of an ally. And this should be the right approach."
Despite the earnestness of director Abhishek Kapoor, the film works only at the introductory-primer level as far as the representation of complex trans related issues are concerned. For instance, we never get to see the physical/hormonal complications that a trans person has to endure and take care of, to lead their preferred life. The trans identity of Maanvi just becomes a means to tell a 'different' love-story. The film was written with a happy ending in sight (spoiler alert) as the sole purpose of it is entertainment; sometimes, even at the expense of trans identity.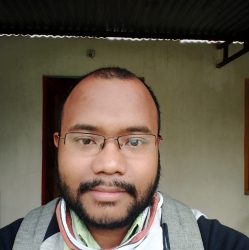 Latest posts by David Lagachu
(see all)