It was one-of-a-kind experience, to be honest…
In-person dating, these days, seems like an overwhelming idea – both in theory and practice. So when I came across a queer experimental digital performance – a sort of beta test for a new dating paradigm – in the 'brave new world', I was gripped by a mix of feelings. Unsure of what to expect, and how to critique the twelve hour dating event (marathon?), I approached it with a bit of trepidation.
Not only was it a new game for both performers: Ran Oz from Tel Aviv, Israel and Johannes Frick from Mannheim, Germany, who before this, didn't ever meet in-person; it promised a new experience to me – the audience too. Over an Instagram Live, I watched the dating scenes unfold between these two strangers – from outgrowing the initial shyness to becoming comfortable with one another. I too, evolved from a slightly unsure audience to a confident one.
There were more witnesses like me to this romantic evening – separated by screens (and continents), yet brought together by it – and these two artists, who were gracious enough, to collectively let us in their private moment. What a paradox!
Though majority of the evening went smooth; it had its minor share of hiccups. Internet emerged as the strongest barrier dictating 'connectivity'. In the realm of digital courtship, 'band-width' acquired an altogether new meaning.
For starters, it was less about the mutual mindset of parties involved, and more of data-driven 'output' that enabled the conversation flow. If it decided to play bitch, much of endearing 'moments' and 'conversations' were lost in translation, but when fine, it reinforced the feeling of being 'connected' – through a complex series of codes.
The date started at 9.30 IST. Both the artists began the evening from their respective hotels. The dress code oozed resplendence – and two dressing moods. As the evening graduated, the artists became more comfortable of each other's presence, and switched to their nightwear.
Five Moments We Totally Loved From This Digital Date:
Internet is a wasteland, here in Germany
Is Instagram Live possible from a personal computer?
There are so many nice drinks here. May be I should make a drink for myself. Now!
Religious places can make me not comfortable
What kind of food do you have?
The artists broke the ice by showing vistas from their respective hotels, and discussing the dinner. There was white wine too! Ultimately, the dinner arrived – with a bit of drama. Since fork and knife was missing from Ran's order; he had to go to the reception desk to request a pair. Once the situation was under control, it was time for them to eat – separately.
As lonely souls, due to the difficulty to make new connections in this pandemic the duo took the audience on a gay, emotional journey in a modern queer Pyramus and Thisbe dating experience: separated by a wall of 3500 km air, connected by a mobile phone screen. The conversation veered towards the family as they divulged details about their growing up years.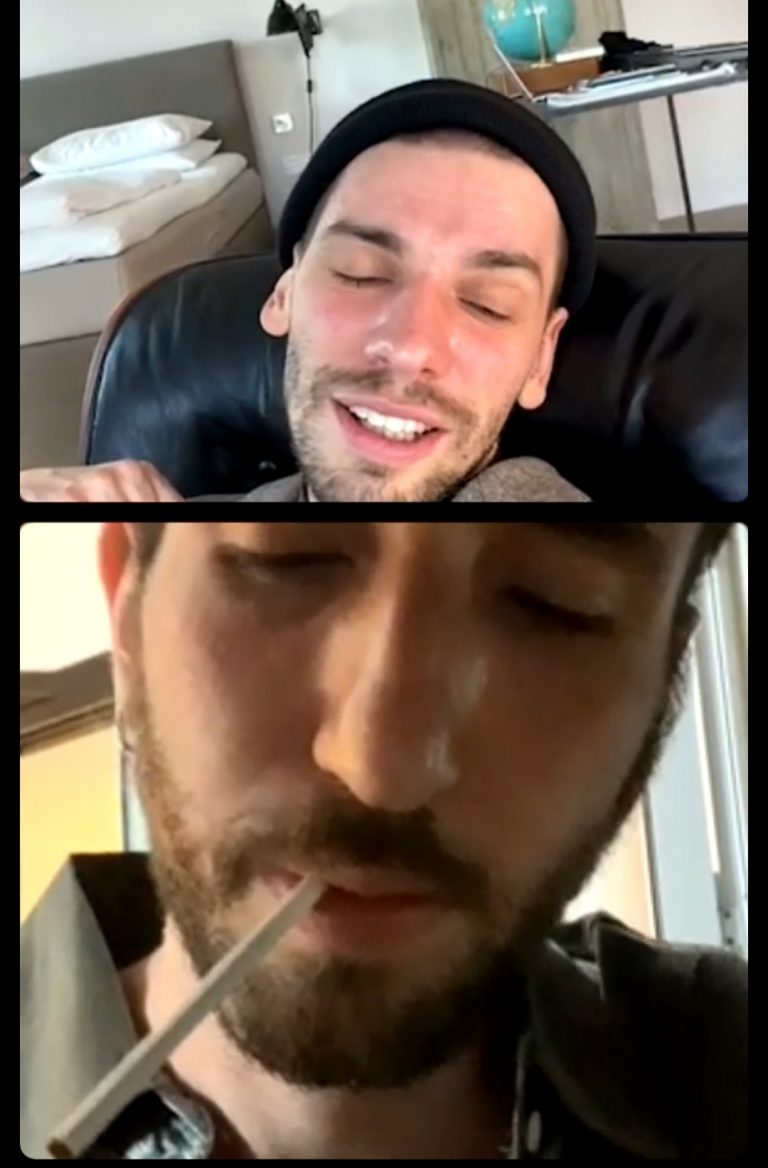 While Johannes commented that he grew up in a conservative, church going family and told how his younger brother is staunchly religious; Ran opened up about his cold equation with his family adding that religious places make him uncomfortable.
The topic of art had to come up at one point of time and it did. The duo talked at length about their art style, and art-scene in their country. Ran in the course of chat, admitted of having a limited art-scene in Tel Aviv and expressed his desire to move to an art friendly city such as Berlin. To which, Johannes commented that Berlin is not the entire Germany.
He then nudged Ran to open up about his experience in IDF (Israel Defence Forces). Ran, dubbed the experience as an unpleasant one. He said though there were many queers, even in the higher rank, he was put off by the regimented approach from the haircut to dressing. The conversation then moved onto bringing a third guy in the mix for the evening – which I assume didn't happen.
While I missed the final hours of their dating night, as it was 3 am in India, I went to bed with a curiosity about the events that might have took place. I woke up with a hope that it must have gone successful. Even if it was a performance, it felt real. I realized that I had become more than an audience; I became an insider – if only for few hours.
Perhaps, it was something these guys had intended all the way. Next time, if such thing takes place, I will be with them for the entire time as an audience – and, a friend.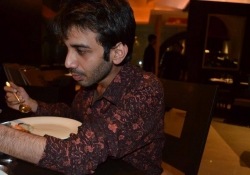 Latest posts by Vinay Agrawal
(see all)