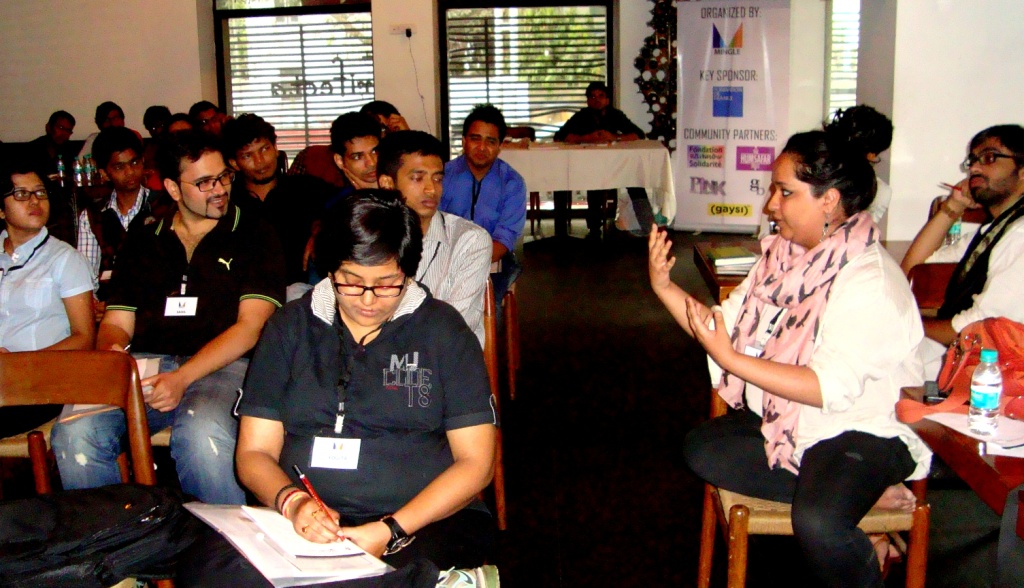 India's first ever Leadership Summit for Lesbian, Gay, Bisexual and Transgender (LGBT) Youth was organized in Mumbai over two days- 15 and 16 February- by Mission for Indian Gay and Lesbian Empowerment (Mingle) in partnership with both international groups- Fondation de France (key sponsor), Rainbow Solidarite (LGBT Rights Group based in France)- and local community partners in Mumbai- Humsafar Trust, Pink Pages magazine, Gaysi, Queer Ink and Gay Bombay.
The objective of the summit was to identify potential leaders among the LGBT Indian youth and groom them for future leadership roles. Held in the heart of India's financial and cultural capital – at Juhu, Mumbai- the two day event consisted of interactive workshops, documentary screenings and panel discussions.
More than a hundred young LGBT people between the ages 18 and 28 had applied to attend the summit, among whom 35 were selected to attend based on their leadership potential and willingness to engage on LGBT issues. The participants were a diverse group of men and women from various professional and cultural backgrounds- coming from many Indian cities like Mumbai, Bangalore, Delhi, Hyderabad, Chennai, Kolkata and Indore among others.
The first day of the summit started with Ice breaker games conducted by Sandeep Harchowdhury, AVP at JP Morgan Chase. After this, a Session on Gender, Sex & Sexuality was taken by Deepak Tripathi & Javed Syed- Training officers at Humsafar Trust. A Personal and Professional Leadership workshop 'Living in Freedom & Awareness' was conducted by Kiran Gulrajani, Founder of 'Co-evolve' and Corporate trainer from Pune. A documentary 'Outlist 2013'- by Perfect Day Films & HBO- that deals with being openly LGBT was also screened.
The second day started with 'Soul Searching'- a talk by Artist and TED fellow Sharmistha Ray, which was followed by a Workshop on Legal issues for LGBT Indians by Vijay Hiremath, an Independent Legal Consultant who deals with human rights issues.
A workshop called 'Out at Work' – which dealt with Leadership in the Corporate World was conducted by Parmesh Shahani, Head of Godrej India Culture Lab. There was a closing Panel Discussion on the theme 'Role of Today's LGBT Youth in Building tomorrow's India'. The panelists were Harshita Gandhi (founder of Queer Ink), Harish Iyer (noted activist and blogger), Sridhar Rangayan (organizer of the Mumbai International Queer Film Festival) and Parmesh Shahani.
In the closing address, Udayan Dhar- Project Coordinator and Diversity Consultant at Mingle- congratulated the participants for being the first batch of India's Youth LGBT Leaders and expressed hope that with community support, Mingle will conduct bigger and better Leadership summits every year going forward. He also said that next year the summit will be held at a new location in India, and that Mingle will continue to focus on the diversity of the participating group.
The two-day event ended on an energetic note with the promise of similar future events being met with enthusiastic cheers amidst certificates being handed out. Pompi Bannerjee, a participant who came all the way from Kolkata said, "The event has helped us in getting a sense of cohesiveness and team work. I'm glad it brought so many people from different walks of life together.".According to Bhushan Kulkarni from Mumbai, the Mingle summit was "very thought provoking, engaging and inspiring". Pushpendra Bansal from Ahmedabad echoed similar sentiments saying he felt "liberated and free" while Rajib Mukherjee from Hyderabad said he had "learnt a lot over these last two days".
Commenting on the Summit, Parmesh said, "I was very impressed and inspired by this summit, and by the dedication and energy if the young LGBT Leaders. I'm hopeful they'll propel India into a brighter and more inclusive future". Sharmistha Ray said "Mingle's LGBT Youth Leadership Summit fills a dire gap in India's social fabric that nurtures and stimulates networks between the progressive queer youth that will help define this nation's future".